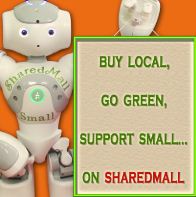 SharedMall introduces a fundamental shift in online shopping that is a must for local businesses to effectively compete and counter the online threat
(PRWEB) November 09, 2012
Major online retail brands like Amazon* and eBay* have maintained a growing online advantage, leaving local businesses behind. Common People Services is disrupting the trend on SharedMall, an online marketplace where local businesses can readily sign up and automate their pickup and delivery ordering and compete online like never before.
Forbes.com recently reported the most powerful way to stop "showrooming" is for local businesses to allow customers to order online and pickup in-store. They cite a study with findings about how local businesses can effectively counter the threat from big online retailers on their own turf.
SharedMall employs strategies like those Forbes recommends, including automating online ordering for local delivery or in-store pickup, building a nationwide Buy Local infrastructure online, upgrading existing local business directories, increasing brand exposure, and instituting loyalty rewards programs.
With the introduction of a unique time-, schedule-, and location-sensitive shopping cart, local businesses including brick and mortar stores, restaurants, farms, and even service providers, can all now benefit from e-commerce and start taking automated orders and appointments even after closing the doors for the day. "SharedMall introduces a fundamental shift in online shopping that is a must for local businesses to effectively compete and counter the online threat," says Jatin Patro, the visionary behind SharedMall.
Local businesses, community leaders, and investors looking for the next big thing are invited to the below free webinar where Common People Services will do a live demonstration of the various powerful new possibilities enabled. Webinar attendees will be offered a free trial and storefront setup assistance on SharedMall, along with associated online marketing tips.
Link for webinar registration: https://www3.gotomeeting.com/register/229499326
Additional information about the benefits of SharedMall can be seen at http://www.sharedmall.com.
About Common People Services, LLC:
Common People Services, LLC was established in 2010 and is located in Hillsboro, Oregon. The company is founded on goodness and strives to earn a solid reputation as a leader in providing innovative and affordable solutions that matter to small businesses and the common people across the nation.
*Names and brands may be claimed as property of others.
###