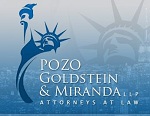 New York, NY (PRWEB) November 08, 2012
In a hard-won presidential election, many major issues factored in, such as the economy, foreign policy, and social issues. One issue, however, has been the most prominent in voters' minds, perhaps even swaying the election result the most: immigration. In fact, before votes were tallied, President Obama was quoted as saying, "Should I win a second term, a big reason I will win is because the Republican nominee and the Republican Party have so alienated the fastest-growing demographic group in the country, the Latino community."
There is little doubt to the truth of that statement. In fact, it has long been established that Latinos are the fastest-growing population in the United States. In 2011, the U.S. Census Bureau reported that the Hispanic population has grown to 16.7 percent of the country's total population. As the nation's second-largest group, their opinion holds considerable weight — even if they are undocumented immigrants. As New York Immigration Attorney Steven Goldstein pointed out, "The 12 million undocumented have family and friends who can vote."
Exit polls confirmed Goldstein's view. Following the election, it was estimated that President Obama won around 75 percent of Latinos' votes. With demographics shifting so significantly within United States, the Republican Party simply could not afford to alienate such a large group. Had the Republican Party been able to sway even a slightly larger percentage of the Latino community, the election may have had a different outcome.
"This year, only 72% of the voting population was white," said Attorney Goldstein. "According to estimates, that number will drop to the mid-60s by the next presidential election."
With growing numbers and swelling importance, the spotlight is now fixated on immigration reform for the next four years. So what will President Obama's reelection mean for this ever-increasing community? According to Attorney Goldstein, "The reelection of President Obama will assure that the DREAM Act (DACA) regulation will remain in force and help the now undocumented youth live the American Dream."
Beyond enforcing that act, immigration reform will continue to move to the forefront of Washington, D.C.'s attention, especially now that both parties have witnessed the strength of the Latino vote. Many Latino leaders are already putting pressure on Washington to deliver on the promises that they feel Obama did not fulfill in his first term. Vice President Joe Biden, however, has been quoted as saying that he "feel[s] very optimistic about, in my view, immigration reform." This reflects a generally positive view toward what the future holds for immigration.
To achieve such reform, however, both parties are going to need to be on board. With an election that reflected a deeply divided country, immigration reform struggles with the same division among popular opinion. "More than anything, the reelection of President Obama is a mandate from the people regarding the diverse stance on immigration between Democrats and Republicans," said Attorney Goldstein.
Already, the Republican Party, however, is signaling that it is going to be taking a much more serious stance on immigration. Following the display of the massive impact of the Latino community's opinion, the party has found itself in a position to realize that adapting to changing times is no longer optional. Attorney Goldstein noted that "comprehensive immigration reform will be on the top of the list in Washington, D.C. as Republicans have witnessed the strength of the Latino vote in this election."
Attorney Goldstein understands better than anyone just how necessary such immigration reform is for the country. Pozo Goldstein, LLP has over 50 years of combined legal experience and has dealt with complex immigration cases of all types. Attorney Goldstein knows intimately how these laws can unjustly hamper an immigrant's ability to stay within the country — impeding their chances of pursuing the American dream.
The firm represented a Chinese citizen, for example, who had been subjected to abuse by her American husband. Previously, she had been approved for I-130, Petition for Alien Relative; however, she had been denied an adjustment of status to legally permanent resident. Although she was placed into removal proceedings, the firm's team was able to terminate the removal by showing that her Violence Against Women Act (VAWA) application would likely succeed. They filed an I-360 on her behalf, which was approved, and were also successful in filing for an adjustment to legal permanent residency. She has since been issued a green card.
If you are dealing with an immigration issue, then you should not hesitate to consult with an immigration lawyer from their firm. With a group composed of former U.S. immigration prosecutors and even a former judge, they are proud to provide their clients with a "powerhouse" team. To learn more about the firm or to discuss your case, simply pick up the phone and call them at 646-461-6838.
Pozo Goldstein, LLP is an immigration firm serving all of New York. It is composed of former U.S. immigration prosecutors, as well as a former judge, providing its team with a full-bodied understanding of the law with which few firms can compete. The firm's team is proud to offer exceptional legal service paired with reasonable fees because they believe that everyone should have access to quality representation. Clients who work with them are confident that they are receiving the best of both worlds — a big-firm advantage and small-firm attention. If you would like to take advantage of their free in-office consultation, do not hesitate to contact them today. You can also visit them online at http://www.PozoGoldsteinNY.com.