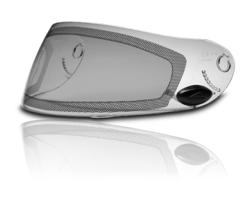 Whether you are a daily commuter or a weekend warrior, the Akari® AX.11 satisfies multiple demands on the road: safety, control and convenience, all in an instant.
Kent, OH, USA (PRWEB) November 10, 2012
Earlier in the month, AlphaMicron Inc. announced it had entered into a strategic partnership with AMI Powersports, LLC, granting the company exclusive rights to manufacture motorcycle products with e-Tint®, their revolutionary patented liquid crystal technology enabling the rider to instantly change tint in less than 1/10 of a second. Today, AMI Powersports announced their first product in the lineup, the Akari® AX.11. Following its predecessors, the MX-8, AX-9, and AX-10 models, the AX.11 is the next generation motorcycle visor insert showcasing all there is to love about e-Tint®. Notable new features of the insert include an improved aerodynamic design, an adhesive mesh perimeter lining for a seamless fit and easy transfer to different shields, a larger field of vision, and condensed electronics housed in a small outer button for easier operation.
Whether you are a daily commuter or a weekend warrior, the Akari® AX.11 insert satisfies multiple demands on the road: safety, control, and convenience, all in an instant. Now riders may easily install an insert onto their faceshield and eliminate the need to carry extra visors or wear sunglasses inside their helmet. With the state-of-the-art e-Tint® technology, rider's visibility is improved and eye strain is reduced in rapidly changing light conditions.
The AX.11 can install onto nearly all industry-standard faceshields with an adhesive mesh lining the lens. A back liner is removed from the mesh, the insert is centered and aligned on the faceshield (via the supplied installation template), and it is pressed into place. No tools or special pins are required. "This feature is a substantial improvement from the MX-8 and AX-10 models," says Roy Miller, Director of Technical Engineering. "When riders scratched or damaged their faceshields, they wanted to easily remove the insert and install it onto a new visor. Many customers found this process to be too difficult, so we were having them send the faceshields back to have our technicians transfer the inserts in-house. This process was time-consuming for both parties, so I am sure customers will be pleased that they can easily do this in their homes now." Not only is the AX.11 transferrable, but it is thin. MX-8 and AX-10 lovers sometimes found their inserts catching on the gasket of their helmet. Say goodbye to those hassles. The AX.11 measures 0.48mm thick, affording a smooth opening and closing of your faceshield.
After installation of the insert, the last crucial element of the product remains: the power. Take the simple elegance of the MX-8 button features combined with the stellar, automatic function of the AX-10, and you have the new and improved AX.11 electronics, housed in a sleek and aerodynamic casing. The button is connected to the insert via a flexible conductive strip and then mounted to the outer, left-hand side of the faceshield with an automotive grade, pressure-sensitive adhesive. The insert can operate in traditional manual mode (on & off) by a simple press of the button, or it can operate in automatic, light-sensing mode. A built-in photo cell is located on the side of the button, changing the tint of the visor automatically, so riders may keep their hands on the bike and off of their helmet.
Taking a cue from the expression, "If it isn't broken, don't fix it", the AX.11 promises the same performance enhancing features as its forerunner models. The Akari® line will continue to include a high-grade and permanent anti-fog coating, unlike most average wipe or spray anti-fog solutions.
In addition, the AX.11 is conveniently equipped with a rechargeable 50mAh (3.7V) Lithium Polymer battery, with built-in charge protection. The battery is easily recharged via a supplied micro-USB cable and offers up to (twenty) 20 hours of tinted use.
In early spring of 2013, AMI Powersports intends to release Youth-size and Arai compatible versions of the Akari® AX.11.
"There is much we are looking forward to with this next generation model," says Miller. "Our product development team has taken note of a variety of customer feedback over the years and we are confident we have addressed the majority of the issues."
The Akari® AX.11 will be available to the consumer market, online and in stores, by February of 2013 for a suggested retail price of $149.99 (US) and € 149,99 (VAT included) for Europe.
To learn more about the new Akari® AX.11 and other products, please visit http://www.amipowersports.com. For updates on current and future AMI Powersports products, find us on Facebook or follow us on Twitter.
ABOUT AMI POWERSPORTS
AMI Powersports is a forward-thinking company created to meet the needs of early-adopter motorsport riders. Born out of the desire to provide motorsport enthusiasts access to cutting-edge riding accessories, each of their products is carefully developed and selected on the basis of three key standards for excellence: innovation, safety and customer satisfaction. With exclusive rights to AlphaMicron's e-Tint® technology, AMI Powersports is the sole manufacturer and primary distributor of Akari®, the only motorcycle visor insert on the market with electronic tint-on-demand. The Akari® line is sold through specialty retailers globally and online. For more information, please visit: http://www.amipowersports.com.
Akari® is a registered trademark of AMI Powersports, LLC. e-Tint® is a registered trademark of AlphaMicron, Inc.