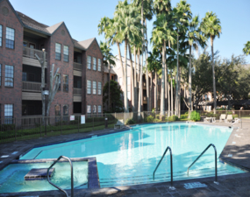 McAllen, TX (PRWEB) November 08, 2012
Today, Holiday Retirement (http://www.holidaytouch.com), the largest provider of independent senior living in North America, announced the acquisition of Heritage Village, a senior independent living community in McAllen, Texas.
Heritage Village, located at 2105 South Cynthia Street, was built in 1988 and features 120 residences designed for seniors. The community also includes a full-service dining room, salon, exercise center, hot tub, heated outdoor swimming pool, ice cream parlor, game and card room, and library.
Founded in 1971, Holiday Retirement currently owns and operates more than 300 communities throughout the U.S. and Canada, including now 30 in Texas.
Operating under the Holiday Retirement model, Heritage Village will begin the transition to provide residents with three chef-prepared meals daily, two sets of live-in managers available 24/7, complimentary scheduled transportation and a robust schedule of daily activities and events. All services, amenities and most utilities are combined in one all-inclusive month-to-month rent with no buy-in fees required.
Through an exclusive travel program, residents are also welcome to stay free of charge in fully-furnished guest suites at nearly all other Holiday Retirement communities across North America.
Independent retirement living is designed for seniors who seek a maintenance-free, enriching lifestyle but do not require around-the-clock assistance or skilled nursing. While Holiday Retirement does not provide or coordinate home care, residents are welcome to use third-party home care services to meet any additional needs.
To learn more about Heritage Village, call 956-631-4422, visit http://www.heritage-village.us or stop by our open house, November 24th from 4-6 pm.
ABOUT HOLIDAY RETIREMENT
Based in Lake Oswego, Ore., Holiday Retirement invented the concept of independent senior living in 1971 and is the largest provider in North America today with more than 300 retirement communities throughout the U.S. and Canada. Holiday Retirement is in the business of providing security, comfort, and value to independent seniors seeking a fulfilling lifestyle in a welcoming environment. For more information about Holiday Retirement, please call 503-586-7191 or visit http://www.holidaytouch.com.