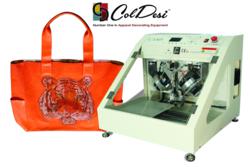 Tampa, Florida (PRWEB) November 09, 2012
Coldesi is looking for feedback on new Rhinestone setting machine products. The company announced today they are planning on new product launches before the end of year.
Those companies using current Rhinestone setting machines are asked to submit feedback and comments on what new products they may want or need. If a company is interested in starting or adding Rhinestone setting to their current DTG printing or Embroidery business, they are also invited to submit questions and suggestions.
For more information, contact Coldesi at http://www.Coldesi.com
About Coldesi:
Tampa, FL - ColDesi, previously known as SWF East, has been serving the apparel decorating industry since 1999 with support and sales of high quality Embroidery Equipment, Direct to Garment printers, Automatic Rhinestone Systems, Heat Presses, software and supplies. The change of name reflects the company's evolution towards customer centric solutions that reflect the needs of the industry. By bringing multiple decorating technologies and the ability to train, service and support with consistency, ColDesi arms its customers with every tool needed to help them succeed in the Apparel Decorating Business.