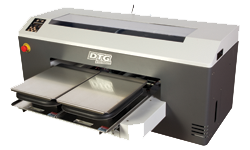 DTG, t-shirt printing for new businesses
Tampa Florida (PRWEB) November 13, 2012
Starting any business from scratch can be very challenging. But, it can also be very rewarding. If you are thinking about starting a direct to garment (dtg printing) based apparel decoration business – it is important that you consider a number of factors before taking the plunge. Below is an overview of some of the most important factors to consider:
Who will I be marketing my products to/who will my customers be?
What kind of graphics will I need for my customers and how will I generate or work with them?
How will I market my products to my chosen market segment?
Web based, storefront, wholesale?
To find out more, please visit: http://www.dtgprintermachine.com/Start-Your-Own-Direct-to-Garment-Business.aspx
About Coldesi:
Tampa FL - ColDesi, previously known as SWF East has been serving the apparel decorating industry since 1999 with support and sales of high quality Embroidery Equipment, Direct to Garment printers, Automatic Rhinestone Systems, Heat Presses, software and dtg supplies. The change of name reflects the company's evolution towards customer centric solutions that reflect the needs of the industry. By bringing multiple decorating technologies and the ability to train, service and support with consistency, ColDesi arms its customers with every tool needed to help them succeed in the Apparel Decorating Business.