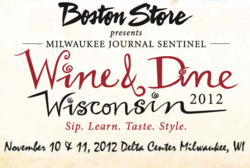 There is no better event in town to experience the culinary excellence and innovation we have here in this city.
Milwaukee, WI (PRWEB) November 08, 2012
Wine & Dine Wisconsin, The Milwaukee Journal Sentinel's premier food and wine-tasting event, will take place this weekend at the Delta Center daily from 11 to 5:00. Tickets bought before noon on Friday sell for $45 versus $55 at the door.
Said David Wise, Marketing Director for the Journal Sentinel, "There is no better event in town to experience the culinary excellence and innovation we have here in this city. Wine & Dine Wisconsin features more than 150 exhibitors, all sampling, and the best food, wine, spirits and craft beer you'll find all in one place, for one outstanding weekend." Tickets for the event can be purchased at WineandDineWisconsin.com.
Four stages at the event will feature 30+ chefs, vintners, brewers, and mixologists – with chefs like Justin Aprahamian of Sanford and Dan Van Rite of Hinterland, plus wine experts like Luis Torres of Constellation Wine Academy and Katherine Camera of Broadbent Selections. Attendees can sip wines in the Wine Gallery, which will include 30 vintners pouring 200 wines, and can taste from more than 70 artisanal cheeses, 40 food exhibitors and more than 100 craft and imported beers. Attendees can also learn from experts at seminars about pairing cocktails with brunch, the best wines coming out of Washington state, and pairing beer and artisanal cheeses.
Journal Sentinel Dining Critic Carol Deptolla's Critic's Choice, is sold out for Saturday, but tickets are still available for Sunday. The ticket for this limited-capacity, limited-time area is $19 and features 18 of the Top 30 restaurants in an exclusive tasting area.
Other special areas at the event will include Cheese Island, Stella Artois Belgian Beer Garden, Sendik's Food Markets, Leinie's Lodge, The Club by Potawatomi, Cider Square and more. The new Froedtert Firehouse Chili Cook-Off will be held Saturday from 11 to 2:00 only.
Boston Store is the event's presenting sponsor. Sponsors include greatbrewers.com, Robert Haack Diamonds (The Wine Gallery), Stella Artois, Wisconsin Milk Marketing Board (Cheese Island), Steinhafels (The Club Official Decorator), Leinenkugel's, American Kennedy-Hahn (Culinary Stage and Cooks Stage), Sendik's (Culinary Stage and Cooks Stage), Potawatomi Bingo Casino (The Club), Bacardi Oakheart (Spirits Sponsor), Bombay Sapphire (Spirits Sponsor), Bittercube, Blue Moon, Froedtert Health and Froedtert & the Medical College of Wisconsin (Firehouse Chili Cook-Off), LandWorks Wisconsin, B & E General Contractors, Jack Safro's Lexus (Critic's Choice), Southwest Airlines (Official Airline), MATC, Culligan (Water Sponsor), Callen Construction, Timothy J, Nonn's Design Showplace, Bartelt The Remodeling Resource, Acupuncture & Holistic Health, The Barrel Broker, and The Home Improvement Network.
Purchase tickets at WineandDineWisconsin.com. Follow the event on Facebook at Facebook.com/WineandDineWisconsin and on Twitter at @Wine_Dine_WI.
About Journal Sentinel
Journal Sentinel Inc. publishes the flagship Milwaukee Journal Sentinel newspaper as well as a range of other print and electronic products, including JSOnline.com, primarily serving southeast Wisconsin people and businesses. JSEverywhere offers a bundled subscription for both print and digital or digital-only subscribers with added applications for both mobile devices and tablets. Journal Sentinel is committed to providing news coverage that reflects the ever-changing world and fulfills the needs of readers and advertisers both in print and online.