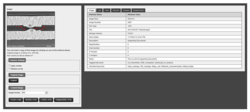 Vancouver, BC (PRWEB) November 12, 2012
Quartz FA-LIMS (Failure Analysis Laboratory Information System) is the world's only LIMS system designed specifically for Semiconductor Failure Analysis Labs. Users of Quartz FA-LIMS have reported significant time savings and improved effectiveness of their laboratory workflow. This next generation of FA-LIMS has been improved in a number of key areas.
The new FA-LIMS system utilizes new underlying technology to operate with Windows Server 2012 and supports the latest browsers including Internet Explorer, Chrome, Firefox and Safari. This web-based system has an improved security model making it easier to administer system security. The job management process has been further streamlined from previous versions while providing more advanced management reports of key performance indicators. Recognizing how much time our customers have saved using the search functions we have also improved search capabilities and added the use of keywords that can be easily added to job and image data. We have also expanded the functionality for creating roles and the different system access that is associated with each role.
The "Image Smart" FA-LIMS is a web based application that features: Detailed job requests from authorized internal and external customers; Job approval and priority schemes; Assignment of tasks based on the approved request; Preliminary and approved reports that are very quick and easy to generate; and Lab performance reports for management.
About Quartz Imaging Corporation – Quartz Imaging has more than 2,000 customers in 37 countries utilizing our industry leading solutions for Digital Image Acquisition and Processing (for most image producing instruments including SEMs, TEMs, STEMs, Tabletop SEMs, Cameras, PC Based Instruments, Scanners); 21 CFR Part 11 Compliance; Laboratory Information Management Systems (LIMS); Failure Analysis Lab Systems (FA-LIMS); Instrument Access Control; Instrument Remote Control; Automated Inspection Systems for Nanotechnology; X-ray Microanalysis (EDX/EDS) Systems and more. http://www.quartzimaging.com