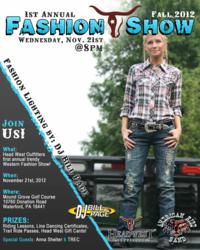 Blending fashion with charity just makes sense to the staff at Head West Outfitters.
Erie, Pa (PRWEB) November 12, 2012
Head West Outfitters is hosting their 1st Annual Fashion Show on November 21st. The highlight of the evening will obviously be the fashion show, but it's only the beginning of an energetic and philanthropic good time. Attendees can expect an electrifying performance from the musical group American Ride Band. Prizes will also be awarded to guests for riding lessons, line dancing classes, trail ride passes, and Head West Outfitters gift cards.
Expected to hit the fashion stage that evening are the latest western wear selections from Ariat, Cowgirl Tuff, Miss Me, Wrangler, Rock and Roll Cowgirl, Corral Boots, Macie Bean Boots, Tony Lama Boots, and Justin Boots. The selection was put together to highlight products that are now available for the fall and winter season. A few of the models might look familiar to those from the Erie, PA area. The models are all "real people" who regularly wear western apparel. Several customers from the retail store, store employees, Head West Outfitters general manager Linda Skelton, and Chuck Alexander, lead singer of American Ride Band, are all lined up to strut their fashionable stuff down the runway.
The fashion show sets the stage for a greater good – charity. Head West Outfitters will be donating proceeds from the event, as well as collecting donations throughout the evening activities, to three charities: ANNA Shelter, Therapeutic Riding of Erie County (T.R.E.C.), and Dreaming of Three. ANNA Shelter will bring a few guests to the event; several dogs available for adoption will be on site to hopefully find new homes and help raise money to care for their friends back at the shelter. Dreaming of Three is an organization supported by rodeo contestants who donate a portion of their winnings to plan rodeo-themed trips for children fighting cancer.
Blending fashion with charity just makes sense to the staff at Head West Outfitters. "We think it is a good idea to incorporate charities into our events whenever we can," shared Linda Skelton, general manager of Head West Outfitters. "All of us are passionate about animals, so we have personal connections with local charities, and we jump at the chance to promote and raise money for them when we have the opportunity. It only makes sense to aid the community that supports our business."
Community outreach extends beyond one annual event, explained Linda. "Our policy at Head West Outfitters is to contribute at least a gift card to every charity cause that visits our store to request a donation. In addition to this local support, we want to increase our involvement in charities that benefit animals. One of our employees volunteers at T.R.E.C weekly, and another is the program director of that organization. We were recently named a corporate sponsor of Dreaming of Three, and we are excited to be very involved with their fundraising efforts. Animals are a big part of the western lifestyle, so it's fitting that we take interest in charities that care for animals or have ties to rodeo."
Head West Outfitters expects to have a big turnout at the event, from those who are interested in the fashion and clothing, to those who are looking for a good time filled with music, to those who are involved with the charities and want to contribute. Regardless of the reasons for attendance, it is expected that all will have a grand time, and three great organizations will benefit from all the fun.
Look for more information about the event on the Head West Outfitters social media sites. Photography and highlights will be posted after the event. If you are interested in attending or donating, please contact Head West Outfitters for details.
Head West Outfitters
2309 Wager Road
Erie, Pennsylvania 16509
Toll Free: 1-877-799-WEST