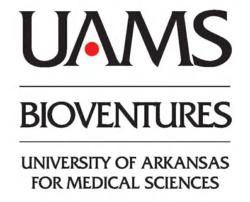 (PRWEB) November 13, 2012
The Board of Trustees of the University of Arkansas is offering 6 patents and patent applications for sale as a single Lot. In the fight against cancer, University of Arkansas has developed the potential for a cell based vaccine that will utilize mans' own immune system to inhibit the key enzyme hespin, a major factor in the development, growth and metastasis of tumors and hyperplasia. These patents and patent applications make available both an important composition and methods to block tumor metastasis. View details and access to links to Patent and Trademark offices.
To date, ovarian cancer remains the number one killer of woman with gynecologic malignant hyperplasia. Approximately 75% of women diagnosed with such cancers are already at an advanced stage of the disease at their initial diagnosis. During the past 20 years, neither diagnosis nor five year survival rates have greatly improved for these patients. This is substantially due to the high percentage of high-stage initial detections of the disease. Therefore, the challenge remains to develop new markers that improve early diagnosis and thereby reduce the percentage of high-stage initial diagnosis.
Abstract: The disclosed nucleic acid primer sets, used in combination with quantitative amplification (PCR) of tissue cDNA, can indicate the presence of specific proteases in a tissue sample. The detected proteases are themselves specifically over-expressed in certain cancers, and the presence of their genetic precursors may serve for early detection of associated ovarian and other malignancies, and for the design of interactive therapies for cancer treatment.
Now the University of Arkansas Biochemistry and Molecular Biology department has developed this 'marker', ready for further development and trials.
The University of Arkansas has extensive R&D Data to support the work towards this technology, providing major control of a path through further clinical development to commercialization. Visit IpAuctions, Inc.