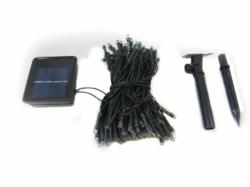 These lights are absolutely amazing, says President Brad Howard, I personally already have them installed at my house
Las Vegas, NV (PRWEB) November 09, 2012
Reusable Revolution LLC, a popular online retailer of solar powered lights and lighting fixtures, continues to innovate and expand their product line. The newest addition came just in time for the holidays. Reusable Revolution LLC is proud to announce the introduction of their solar powered string lights. The solar string lights are available in a variety of colors and two different lengths (39 ft and 55 ft) to suit every customer's need. Initial offerings of the 100 LED 39 ft string lights are going to be in red, white, and blue LED lights. Initial offerings of the 150 LED 55 ft string lights are going to be in red, white, blue, pink, as well as a multi-colored LED lights. As is standard with Reusable Revolution LLC product offerings, these lights are 100% solar powered and do not require any wiring to an electrical outlet.
The solar string lights are the perfect solution to holiday lighting. As our customers know, running holiday lights every night for up to 5 or 6 weeks before the major holidays can be very costly and is an inefficient use of electricity. These lights pose the perfect solution to this problem. Now, holiday lovers can put up their string lights as early as they want with no addition to their power bill and no inefficient use of energy. Moreover, running extension cords to string lights pose another disadvantage to traditional holiday lights. Each solar string light comes equipped with a solar panel that is attached to a ground stake. Simply insert the stake into the ground with the solar panel facing the sun, turn the lights on, and select the setting you would like (either constant on or flashing) and your string lights are ready to go. For non-traditional mounting, the stake can be removed from the solar panel and the mount can easily be used to attach to an above ground surface. This is ideal for mounting in trees or on elevated areas such as roofs or second story decks, etc. In addition, the solar panel has a built in light sensor, when receiving sunlight the lights will charge only and not illuminate; when the sun goes down the LED lights will automatically illuminate. Being offered at the very competitive price point of $24.99 per string, the solar string lights are sure to be a hit for the 2012 holiday season.
Reusable Revolution LLC is a fast growing e-commerce company. Specializing in solar power, Reusable Revolution offers a variety of products that are trusted by individual customers, businesses, commercial contractors and landscapers, households, and even various governments including the U.S. Government. Their products are ever evolving and expanding to fill customer demands.
As demand for solar powered lights continues to grow and shift, Reusable Revolution LLC is quick to adjust and meet customers' needs and wants. Moreover, Reusable Revolution LLC is very pleased to be in an industry that supplies products that are so highly desired by customers while at the same time promoting sustainability and clean energy. "These lights are absolutely amazing," says President Brad Howard, "I personally already have them installed at my house; I don't know why everyone wouldn't use them this holiday season."
Based in a 10,000 square foot facility in Las Vegas, Nevada, Reusable Revolution LLC sells its 50 plus solar products to thousands of customers through numerous distribution channels including the company's own website, reusablerevolution.com. Their products range from landscape lights to motion sensor flood lights and even include unique alternative energy products such as solar powered radios and solar powered flag pole lights, with even more solar energy products to come in the near future.