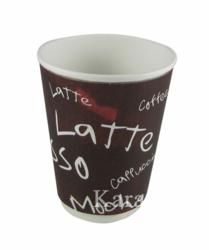 These premium insulated paper cups are designed with an insulated double-wall, eliminating the need for double cupping or the use of cup sleeves.
City of Industry, CA (PRWEB) November 09, 2012
Thanksgiving is a time of gathering, sharing, and remembering. Many great ideas are born during this wonderful season, and CupDepot and hot cups are no exception. Born at the feasting table, Cupdepot is now a leading supplier of premium paper and plastic disposable products. Hot cups play an important role for CupDepot.com, being one of their pioneer products by offering product versatility to consumers. Starting November 16th, CupDepot will celebrate and give thanks by offering customers a $20 instant rebate on all purchases over two hundred dollars. Simply use promo code "THANKS20" at checkout.
"For us here are Cupdepot, Thanksgiving brings particularly fond memories," says Alan Yu, CEO of Cupdepot.com. "It was a risky endeavor entering the cup and disposables industry. I remember during one of our first annual thanksgiving parties, someone jokingly said that because Lollicup needed so many cups, we should just make our own! This sparked a brainstorming session, which eventually lead to the launch of CupDepot.com, a restaurant and bar supply wholesaler specialized in plastic cups and paper cups." With roots in the beverage industry, Cupdepot.com understands that high quality cups are crucial for offering a high quality experience for customers. Cupdepot.com explains that in the very same brainstorming session, they decided that their hot cups must be of the very best quality and offer a large variety of add-ons to meet and exceed consumer expectations.
First introduced on 2007, the paper hot cups are designed specifically for use with hot beverages and are great for the restaurants and cafe business. Widely used for coffee and tea, Cupdepot's paper hot cups are double poly lined to prevent leaking and for added resilience. They come in a variety of sizes (from 4oz all the way up to 24oz) and designs. Naturally, the next products introduced were cup lids to help prevent spillage and cup jackets to keep drinks hot and protect hands from non-insulated cups. Cup lids are made durable, tough, and are resistant to heat, chemicals, and oil. Cup sleeves and jackets are a great solution for handing both hot and cold beverages. CupDepot's innovative insulating cup jackets are uniquely designed with a tulip-shape, featuring four slit cut-outs that allow them to fit tightly on any regular sized cup.
The latest product evolution for paper hot cups is the insulated paper hot cup. These premium cups are designed with an insulated double-wall, eliminating the need for double cupping or the use of cup sleeves, perfect for hot beverages like coffee, cocoa, tea. The insulation makes the cups ideal for take-out beverages since it keeps drinks hot longer and fingers from getting burnt. Another recent addition is Cupdepot's high quality Karat® Stirrer Straws. These stirrer straws come in two different lengths (5.5 and 7.25 inch) are perfect for mixing cocktails or coffee, and are ideal for bars, restaurants and cafes.
Combining these products gives consumers the ability to simplify their ordering process and create a one stop shop for all their needs. CupDepot looks forward to being able to prove for all small business needs, understanding the importance of streamlining for business operations.
For more information, please visit http://www.cupdepot.com.
About CupDepot.com
CupDepot.com is headquartered in City of Industry, California and is widely known as a wholesale of premium paper and plastics for the restaurant and foodservice industry. For more information, please visit CupDepot.com. Karat® Earth is a subsidiary line of Karat®, a manufacturer of affordable premium paper and plastics.
###
If you'd like more information about this topic, or to schedule an interview with Alan, please call Paul-long Lee at (626) 965-8882 ext 148 or e-mail Paul at paul.lee(at)lollicup(dot)com