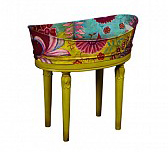 "You just need some creativity and the right pieces, used the right way to make a statement; it's really about putting it all together."

Denver, Colorado (PRWEB) November 12, 2012
In time for holiday shopping, the Carland Classics vintage-inspired interior décor and gifts catalog launches this week, featuring everything from classic kitchen canister sets to funky, fun furniture, and hundreds of mid-century-style and antique finds meant to inspire vintage, retro and blended design themes.
CarlandClassics.com was established by Denver native Jaymee Carland, whose passion for antiques and creative décor inspired her to launch the web-based boutique business.
Carland's online catalog offers uncommon finds like an antique sled or flatbed garden wagon, and gift ideas like the hip, retro revolving candy jar - the kind of retro-chic element found on the set of "Mad Men."
Launching the catalog with more than 450 vintage-inspired items ranging in price from $7 to $3,000 has been Carland's focus for more than a year. She advises buyers who love the look of vintage but don't know where to begin to try narrowing their choices down to one fabulous piece and designing a room around it.
"There are so many beautiful pieces to choose from, and sometimes a single element is all you need to build on," Carland says. "Serving dishes like those your grandmother or mother may have brought out for the holidays and special occasions can inspire the selection of a special piece that feels perfect for creating new holidays memories."
Carland Classics offers items to suit a memorable holiday table or buffet, like the Balon Cloche and Spanish olive tray which work perfectly together, or the elegant Elise Cutwork Leaf Trays for entertaining or as serving trays for the holiday table.
"So many of these pieces make wonderful gifts for younger people just setting up house," Carland says. "We have some classic pieces that are perfect for beginning holiday traditions."
The catalog offers plenty of mid-20th century-style gifts, from planters and candle holders to decorative crosses.
Carland's interest in vintage décor is an extension of her lifelong passion for antiques, and her expertise built from many years of antiquing and attending auctions, estate sales and garage sales. As a realtor, she has staged homes to add design interest and help encourage a home's sale. With Carland Classics, she hopes to put her staging and merchandising experience to good use by advising people on design elements to increase sales potential and protect their investments in today's tough economy.
Carland also offers advice on how to mix vintage and antique pieces with modern and traditional décor innovatively.
"You just need some creativity and the right pieces, used the right way to make a statement," she says.
"It's really about putting it all together."
Staging a home to sell can provide a boost to homeowners looking to get the most money possible out of their home's sale – possibly the biggest investment most people make in a lifetime - and Carland offers her expertise to help.
If the catalog doesn't happen to have an item that a buyer may be looking for, Carland can help track it down or suggest alternatives.
The catalog launches with a 10 percent discount on all orders through December 31st, and all orders of $150 or more ship for free.
For more information, and to view the collections of high end vintage, retro and antique décor in the Carland online catalog, visit the Carland Classics website, or follow the Carland Classics Facebook page, Twitter Page, or Pinterest Page for beautiful design inspiration.
###