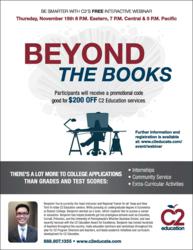 Atlanta, GA (PRWEB) November 12, 2012
While most parents and students fully recognize the importance of test scores and grades in the college admissions competition, they often fail to see the value of less academic pursuits, such as internships, community service, and extracurricular activities. And yet, in a world of increasingly competitive admission rates, these less tangible aspects of college admission are growing ever more important.
In "Beyond the Books," college admissions expert Benjamin Yun will help students and parents to better understand the role that extracurricular activities play in college admissions. He will answer questions about the types of activities that students should participate in, how to get valuable internships, and why community service is an important part of college admissions.
The webinar is just a few days away. Although the event is completely free, registration is required. In addition to valuable guidance, participants will also receive $200 off C2 Education services. To register, visit C2 Education on the web.
ABOUT C2 EDUCATION
C2 Education was founded as an in-home tutoring service run out of a Harvard dorm room in 1997. From those humble beginnings, C2 has grown to include more than 120 tutoring centers across the country serving thousands of students each week.
C2 students enjoy fully customized programs, one-on-one interaction with highly qualified teachers, and the support needed to succeed throughout their educational careers. C2's results speak for themselves: C2 students increase their SAT scores by an average of 350 points, 100% of C2 students pass state standardized tests, and 85% of C2 students go on to attend a top 50 college or university. To learn more about C2 Education, visit http://www.c2educate.com.