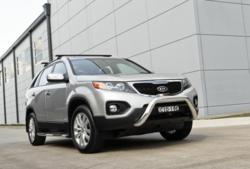 (PRWEB) November 11, 2012
With the addition of the Global Circuit Limited Edition lifting the award-winning SUV's value equation to even loftier heights.
With a nod to the original Global Circuit model from 2008 _ named for the achievements of acclaimed Swedish adventurer Christer Gerlach who circumnavigated the world in his 2005 Sorento _ the latest limited edition model adds more than $3700 in value for an additional sticker price of $1000.
The Sorento SLi Diesel, SLi Diesel with navigation and Platinum diesel with navigation gains side steps, alloy nudge bar, towbar with wiring and tongue, cargo protector, carpet mat set, roof rails and crossbars and a special Global Circuit badge.
"That not only gives an already leading edge SUV added muscle and attitude, but does it while adding outstanding value to the package," Kia Motors Australia Chief Operating Officer Tony Barlow said.
"The Sorento diesel has been consistently recognised as a leader for performance, safety and value _ and the Global Circuit Limited Edition will only underscore that."
The Kia Sorento has been one of the success stories of the Australian new car market with sales soaring 34.7 per cent year-on-year to the end of July.
The Global Circuit Limited Edition is now available from selected Kia dealerships. The SLi Diesel is $47,190, the SLi Diesel with satellite navigation is $48,690 and the Platium Diesel with navigation is $51,180.
# # # ENDS # # #