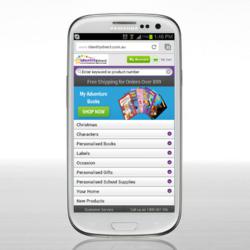 our mobile site will make it easier for people to shop how they want to
Sydney, New South Wales (PRWEB) November 13, 2012
Identity Direct, a leading global personalised gifts website have just launched their mobile optimised site. Customers can now easily purchase personalised gifts directly from their iPhone or other smartphone.
Linda Greene, founder of Identity Direct says "over the last 12 months we've noticed a huge increase in visitors coming from smartphones. So getting a mobile optimised website up was really important to ensure the best shopping experience for our customers browsing the site on their mobile phone."
Identity Direct's mobile site automatically detects whether the customer is using a desktop computer or mobile phone and serves up the most appropriate site. The mobile site will:
-Allow customers to easily navigate the site as it is specifically designed for the mobile-sized screen
-Greatly decrease loading time for each page so customers can quickly find what they are looking for
According to Power Retailer, an Australian researcher and authority on eCommerce, 60% of local Google searches are performed on a mobile device, but only 15% of Australian businesses have mobile optimised sites.
Greene says "our mobile site will make it easier for people to shop how they want to - if they want to purchase on a smartphone, it shouldn't be a painful experience. People are on the move and still looking to buy personalised gifts, labels,etc, so we're excited that we can now offer them this improved experience. Our full range of personalised gifts is available through our mobile site. Anything you find on our full website is available through mobile too."
About Identity Direct
Identity Direct is the world's leading supplier of personalised children's gifts. They create products that bring magical, memorable moments that will live in the hearts and minds of children forever. Identity Direct's products are individually personalised and having been in business since 1992, they're experts in personalisation. Identity Direct appreciate the joy their products bring and take their responsibility to provide great quality products, matched with unrivalled value and superior service seriously.
Identity Direct also partner with some of the biggest children's brands in the world – including Disney, Marvel, Sesame Street and Nickelodeon. These partnerships let them combine the uniqueness of personalised gifts with the magic of children's favourite characters. If unique, memorable and magical is what you're looking for in a gift, Identity Direct can help!