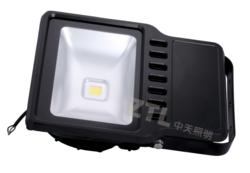 (PRWEB) November 22, 2012
Zhongtian Lighting, a reliable LED flood light supplier in China, announces the new product [ZT-FL-120W] to help enrich its production line as well as expand its business. It is widely used in billboards, highways, railways, tunnels, bridges and culverts, squares, buildings, hotel façade, and other outdoor places.
The light is sealed by silicone rubber, it makes the heat sink, end cap and the glass combined perfectly with each other, and the surface is passed the treatment like anodic oxidation and plastic spraying. It can meet the requirement of IP65.
Zhongtian Lighting uses the high pure imported aluminum as the reflector. This kind of reflector has high reflecting efficiency and can ensure the luminous flux. The special design of this reflector can improve the light uniformity ratio and utilization. Customers can control the light inside of a useful area.
The advantages of the LED floodlights overweigh traditional lamps. The floodlights do not have lead, hydrargyrum and any other contamination. It is environment friendly and energy saving true. Besides, it doesn't contain adverse glare or flicker, which eliminates fatigue and distraction of vision for good light distribution. It can reach its normal light as soon as it rotates, preventing the long process of the onset of traditional light. With 50,000 life hour ratings, 16200 lumen output, waterproof construction and a low profile form fact, this led flood light series is really good products for users to test. New applications like license plate recognition and other types of vehicle and personnel recognition with video capture are proved to be an effective solution.
This modular system enables a cost-effective, flexible inventory for just-in-time delivery. The [ZT-FL-120W] led flood light can be designed for a customized look, quickly shipped and then easily assembled onsite and installed. This reduces various costs at distribution and installation.
Zhongtian Lighting is dedicated to developing new products, willing to offer the excellent, functional, and eco-friendly LED lights to users. It manufactures all kinds of LED lamps for industrial, commercial and public indoor lighting applications. All products of Zhongtian Lighting are granted a 3-year warranty. The company is very confident to produce many more practical and popular LED bay light series for the customers all over the world.
For more information, please visit http://www.ztlights.com.