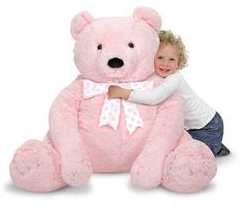 I especially want to help children who struggle academically.
McKinleyville, California (PRWEB) November 11, 2012
April McMurtrey, dyslexia specialist, teacher, author and mother of 3, recently launched the online store – ShopThankHeaven.com - to help finance a year-long long mission in the aid of children all over the world. McMurtrey and her husband, Eric, plan to save enough over the next 4 years in order to finance their noble intent.
"I've always loved children. I have 3 of my own. They are the reason I became a teacher and then, a dyslexia specialist", said McMurtrey, a certified dyslexia tester and teacher/reading specialist . "I especially want to help children who struggle academically."
"A mission like this demands quite a bit, financially; which is why we decided to start an online store", explained McMurtrey. "But we also wanted to offer parents and grandparents lovely products which they could share with their little ones without burning a hole in their pockets. We want to make it affordable for them to make new memories with their little angels and put smiles on their adorable faces."
It is obvious that children, especially little girls, were the inspiration behind the theme for ShopThankHeaven.com. The store displays its products in 5 main categories – Her Bedroom, Her Closet, Her Bling, Her Playroom and Baby My Handmade Dolls. Within those categories, hundreds of products ranging from little girls bedding to furnished dollhouses are offered at competitive prices.
Trunki Trixie, a popular item with little girls, is a suitcase which conveniently doubles as a pull-along riding toy and is a normal price item at ShopThankHeaven.com. However, shoppers can look forward to saving around 20% off average retail prices for this product at the store.
Shoppers can save a lot by shopping for items at the 'On Sale' category. The New Savannah Dollhouse can cost up to $200 on some sites but it only costs $126 at ShopThankHeaven.com when on sale. That works out to 38% in savings. Incidentally, the item costs around $138 when not on sale.
Apart from fun items for little girls, there are also a number of information pages which might be of interest to parents. Topics touched on these pages include dyslexia and ADD/ADHD.
So far, McMurtrey has received a lot of support and encouragement from friends and relatives and is optimistic the store will play its part in helping them answer their call of faith.
"We're basically starting from scratch with this store. There's so many new and exciting things to learn about selling things online", said McMurtrey enthusiastically. "It's a challenge but we have faith."
In addition to being a dyslexia specialist, McMurtrey is also a published author. She has penned two books, The Book of Mormon - A Family Discussion Guide and What is the Purpose of Life?; both are available on Amazon.com.
For more information about April's web store, please visit http://shopthankheaven.com/