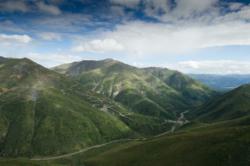 Vancouver, BC (PRWEB) November 09, 2012
(Financial Press) - John Sagman figures he just got handed one of the biggest opportunities in Canadian mining.
A professional engineer, Sagman was hand-picked for the post by entrepreneur John Lee, Chairman of Prophecy Platinum Corp., (TSX-V: NKL) a mining exploration company whose flagship property in the Yukon contains one of North America's largest and most unique resources of rare and valuable platinum group metals, plus huge reserves of nickel, copper and gold.
As Chief Operating Officer and Senior Vice President of the company, Sagman's task is to steer the massive Wellgreen project from exploration, through pre-feasibility and into full production. It's a tall order, but it's the kind of challenge he has met in the past with both Vale and Xstrata. If he pulls it off, it could be one of the defining moments of his career.
Sagman's appointment marks a key stage in Prophecy Platinum's evolution from a junior exploration company into a global player that could find itself operating one of the largest nickel sulphide projects in the world, with production accounting for as much as 20-per-cent of North America's annual platinum supply.
In further moves designed to strengthen the company's senior management team, Prophecy Platinum also announced in November the appointment of Greg Johnson as President and Chief Executive Officer, while Jeffrey Mason was named Chief Financial Officer and Samir Devendra Patel was appointed Corporate Secretary.
'We are putting in place a recognized executive management team to lead technical, financial and developmental aspects of the world class Wellgreen PGM-Cu-Ni project in the Yukon," said Chairman John Lee.
"John Lee acquired a great property," says Prophecy's senior investment relations manager, Chris Ackerman. "It's vast. We've concentrated on a 2.5km strike, but the entire property runs about 17.5 kms and the renowned expert on the region, Dr. Larry Hulbert, has described Wellgreen as within a larger Ni-Cu-PGE terrane called Wrangelia which is part of the Kluane Mafic-Ultramafic Belt — the short version is that the blue sky potential is very real."
Hulbert, a professional geoscientist, spent 23 years with the Geological Survey of Canada and has authored academic papers on nickel-copper-PGM projects world-wide, including the Geology and Metallogeny of the Kluane belt, of which Wellgreen is part. He is currently acting as adviser to Prophecy.
Wellgreen has become well known for its resource and potential, says Ackerman, and "it is now time to turn development of the project over to an individual capable of turning that potential into reality. John Sagman was brought in specifically for his history of success in taking mines to the producing stage and then running the operation."
Indeed, since graduating from the University of British Columbia in 1981, Sagman's 30 years' of experience have included the design, development, commissioning and management of both open pit and underground mining projects across Canada and, notably, within a relative stone's throw of Prophecy's Wellgreen and Shakespeare projects.
"Having been involved with mining in the Yukon since 2010, I've known about Wellgreen for some time and followed its development," says Sagman. "Seeing the property first-hand, and meeting the Prophecy team, gave me a chance to learn a great deal more about both."
A priority, says the new COO, is to assess the past program and optimize the current plan. "We have to get a lot of work done as soon as we can to bring the project along. The Wellgreen property has really good potential for being a viable mining project."
Sagman takes over a property that is ranked as one of the top five undeveloped nickel sulphide deposits in the world. But the mine itself is a "brownfield" site. Hudson Bay Mining worked it for 20 years and, in the early 1970s, produced nickel, copper and some gold. Platinum then was not considered commercially important to the operation.
That changed when catalytic converters, using platinum as a key component, became standard in automobiles from 1975. Demand for the precious metal has risen ever since. Historically trading at a premium to gold, prices soared from $350 an ounce in the early nineties to around $1,600 an ounce today.
John Lee was among the first to foresee global supply and demand trends in platinum group metals when he acquired and consolidated the Wellgreen claims in 2010 and raised $20 million to kick-start a "totally different" approach to the mine.
Says Chris Ackerman: "He has a creative and analytical mind. He started to think about it in a totally different way, about the possibility of this once again becoming a mine, but a completely different type of mine than in the past.
"There were 702 historic drill holes. We took all those and remodelled them and compiled all that information into a NI 43-101 compliant resource estimate that really put Prophecy on the map when it came out last summer. Since then, we've done a substantial amount of additional drilling, continued to announce results and we released a PEA in July — and we did it in a very short period of time."
The preliminary PEA took into account everything from the cost of drilling, to the value of the ore in the ground based on current base metal prices, to trucking and shipping.
Did the assessment indicate a viable project? "Yes, definitely," says Ackerman.
What the PEA indicated, in a nutshell, was that an open pit mine could mill perhaps 32,000 tonnes per day, producing over 53 million lbs of Ni, 55 million lbs of Cu and 66 Moz. annually - at a cost of about $2.18 per lb. (after by-product credits). This concentrate could be trucked along the all-weather Alaska highway to seaports on the west coast for shipment to smelters in Asia.
Over its projected lifespan, the mine is projected to produce 1.959 billion pounds of nickel in concentrate, 2.058 billion pounds of copper and 7.119 million ounces of platinum, plus palladium, plus gold.
In better economic times, investors might be expected to be charging the gates. But junior mining everywhere has been in the grip of recessionary caution.
"This year has been a rollercoaster and, like most in the sector, we got hit hard and are currently trading at or near a 52-week-low," says Ackerman.
Prophecy Platinum trades shares on the TSX Venture Exchange, 35 percent of which are owned by sister company Platinum Coal, reached a high of around $6 in mid-2011 but were trading in October 2012 at around $1.06.
"Looking at (the company) as a month-to-month investment you might get discouraged," says Ackerman. "But, from acquisition to production, this is a decade-long undertaking. We're optimistic on commodities prices. China will continue to grow, along with other emerging markets.
"You need nickel to make steel; you need copper to make wiring. And when you talk about platinum group metals, about 93 per cent come from South Africa, Russia and Zimbabwe, and they're all having their problems.
"It depends on what kind of investor you are, but we estimate (Wellgreen) will be in production within five or six years, at which time it will be a revenue-generating operation and speculation will be behind us. "
Investors might have a further inducement to consider the company should a new report upgrading Wellgreen's resource estimates become available next year. A "comprehensive" pre-feasibility study would follow in 2014.
More than 10,000 metres have been drilled since February 2012 and that work will continue in 2013. As Prophecy's John Lee told investors: "Wellgreen still has plenty of exploration potential."
Legal Disclaimer/Disclosure: A fee has been paid for the production and distribution of this Report. This document is not and should not be construed as an offer to sell or the solicitation of an offer to purchase or subscribe for any investment. No information in this article should be construed as individualized investment advice. A licensed financial advisor should be consulted prior to making any investment decision. Financial Press makes no guarantee, representation or warranty and accepts no responsibility or liability as to its accuracy or completeness. Expressions of opinion are those of the author's only and are subject to change without notice. Financial Press assumes no warranty, liability or guarantee for the current relevance, correctness or completeness of any information provided within this article and will not be held liable for the consequence of reliance upon any opinion or statement contained herein or any omission. Furthermore, we assume no liability for any direct or indirect loss or damage or, in particular, for lost profit, which you may incur as a result of the use and existence of the information, provided within this article.