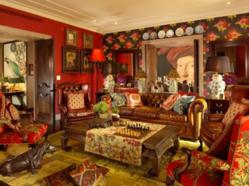 London, UK (PRWEB) November 13, 2012
The suite is inspired most notably by 1940s and 1950s Hollywood as well as the Indian Cinema era of the 1950's. Guests will find reference to masters such as Ray, Francis Ford Coppola and Bergman in the imposing study, world cinema leaders like Majidi, Wong Kar-Wai and Almodovarin amongst the cultured kitch of the living room and echoes of The Stepford Wives in the kitchen. They will sense the golden Hollywood era of Rita Hayworth and Marilyn Monroe in one bedroom while the other draws on colonial inspiration and renowned Indian artists such as Guru Dutt, Merchant Ivory and Bimal Roy.
The suite is a celebration of personalized detail and global culture. Visitors will marvel at breathtakingly rare Bollywood film prints, remarkable history books, vintage mirrors and a myriad of portraits and drawings. From the leather Chesterfield to precious glassware, intriguing art and antique rugs, world arts and crafts are displayed throughout. Each wall is a work of art in itself, with striking Nina Campbell wallpapers in burnt orange, black and red, laden with curios collected from over 32 different cultures. Sumptuous silk drapery meets magnificent oak flooring, while priceless antique furniture displays ornaments such as rare Chinese porcelain, Bhutanese frames and 1920s embroidered Indian lamps.
The Cinema Suite features cutting-edge technology which perfectly blends in with the glamorous design. The 85 inch plasma cinema screen, with a 3D state of the art home theater system, is one of the biggest private screens in any London hotel suite. It is assisted by a world class Steinway Lyngdorf cinema system - a fully immersive cinematic experience and raises the bar in terms in-hotel audio visual offerings. The system has been preloaded with a repertoire of 300 international motion pictures, books and music, chosen by Sabyasachi himself to acknowledge that time is well spent amongst films, art and culture.
While utterly different in style, the Cinema Suite is the second designer collaboration for 51 Buckingham Gate, following the launch of the world's first Jaguar Suite which was conceived by Jaguar Design Director, Ian Callum and opened at the hotel in autumn 2011.
The Taj was honored to have the suite inaugurated by K Chiranjeevi, Union Minister of State for Tourism – India, during his World Travel Market 2012 visit.
Rates at The Cinema Suite start at £5,100 per night. For reservations please call 020 7769 7766 or visit http://www.51-buckinghamgate.com
###
About Sabyasaachi :
The hotel is honored that it's newest, and arguably most fascinating suite, harnesses the vibrant creativity of one of India's most celebrated fashion and film-costume designers. Having received a host of awards and accolades (e.g. Most Outstanding Young Designer -Femina British Council 2001, Grand Winner - Mercedes Benz New Asia Fashion 2003, Best Designer of India at the MTV Lycra Style Awards and Designer of the Year - ELLE magazine), Sabyasachi has gained increasing notoriety on the international fashion stage. He is the only Indian designer to be part of all three leading fashion weeks New York, Milan and London, has showcased collections at Sotheby's in May 2012 and featured within British Vogue's 'Hot List'.
Not only does the new and luxurious suite reflect Sabyasaachi's evocative and eclectic fashion concepts, but most significantly, it nods to his links to the film world. The designer forayed into films by designing costumes for Sanjay Leela Bhansali's landmark film, Black which earned him critical acclaim along with the National Award in 2005 for Best Costume Designer for a feature film.
About 51 Buckingham Gate - part of Taj Hotels Resorts & Palaces
Part of the Taj Group, 51 Buckingham Gate Taj Suites & Residences, combines the facilities and convenience of a luxury hotel with the space and exclusivity of a private home, 51 Buckingham Gate, Taj Suites & Residences consists of three individually designed buildings: Kings, Falconers and Minsters. The buildings have been beautifully restored and '51' now offers 86 elegant suites each with their own separate kitchen and living area. Located in St. James's and just minutes from Buckingham Palace, shops and theaters of the West End, the townhouse hotel is an ideal base for a long weekend visit to London.
About Taj Hotels Resorts and Palaces (http://www.tajhotels.com)
Established in 1901, Taj Hotels Resorts and Palaces is one of Asia's largest and finest group of hotels, comprising 99 hotels in 56 locations across India with an additional 16 international hotels in the Maldives, Malaysia, Australia, UK, USA, Bhutan, Sri Lanka, Africa and the Middle East. From world-renowned landmarks to modern business hotels, idyllic beach resorts to authentic Grand Palaces, each Taj hotel offers an unrivaled fusion of warm Indian hospitality, world-class service and modern luxury. For over a century, The Taj Mahal Palace, Mumbai, the iconic flagship has set a benchmark for fine living with exquisite refinement, inventiveness and warmth. Taj Hotels Resorts and Palaces is part of the Tata Group, India's premier business house.
Media Contact:
Alison Sager
SDA International
alison (at) sheiladonnelly (dot) com
alison.sager (at) gmail (dot) com
212.365.4687 or 212.851.8425