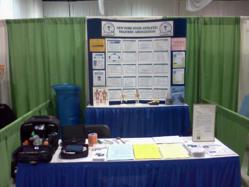 Athletic trainers (ATs) can help schools provide progressive and comprehensive health care for their student-athletes in a fiscally reasonable and responsible way.
Rochester, NY (PRWEB) November 14, 2012
In an effort to become a more valued educational resource to NYS school boards about concussions and other athletic health care issues, as well as answer questions on the qualifications and skill-set of athletic trainers (ATs), the New York State Athletic Trainers' Association (NYSATA) attended the New York State School Boards Association (NYSSBA) 93rd Annual Convention and Education Expo in Rochester, NY on October 25-27, 2012. Over 1300 people from school boards across the state attended the three-day event.
"In today's challenging environment, it's increasingly important for athletic trainers and school boards – large and small – to come together and work in a collaborative fashion to help protect our student-athletes," says NYSATA president-elect Aimee Brunelle, MS, ATC. "Many people are not aware that athletic trainers can help schools provide progressive and comprehensive health care for their student-athletes in a fiscally reasonable and responsible way, which can decrease the liabilities associated with sponsoring sports programs and improve the overall safety and quality of the student-athletes' experience."
NYSATA, an exhibitor in the Education Expo, promoted the latest research and educational materials to school board members from across New York state. The material included the NYSATA Concussion in Youth & High School Sport cd, fact sheets on the heath care expertise and skills of athletic trainers, and promotion of the Western New York Head Injury Seminar to be held January 4, 2013 in Buffalo, NY, which is free and open to the public. Nearly 100 school board members spoke to representatives of NYSATA with questions and concerns about their school athletic programs, including concussion management and the role of the athletic trainer (AT), and various types of employment options for athletic trainers in secondary schools.
A common area of concern was that schools or districts without a certified athletic trainer (AT) employed in some regard and available as part of the concussion management team have a much more difficult time monitoring and managing student-athletes with concussions and maintaining timely and accurate communication with all involved parties. Regular communication among all pertinent health care providers, school officials, and family members is integral to an effective comprehensive plan of care and, due to the nature of being present during athletic events and doing the on-site assessment and progression of the student-athlete's return to play protocol in most cases, ATs are pivotal in maintaining a high level of awareness, education, and communication with school nurses, physicians, counselors, teachers, coaches, school administrators, and parents.
NYSATA, founded in 1976 and incorporated in 1989, stands to advance, encourage, and improve the profession of athletic training by developing the common interests of its membership for the purpose of enhancing the quality of health care for the physically active in New York state. Comprised of credentialed and practicing athletic trainers, NYSATA is the state-wide affiliate of the regional Eastern Athletic Trainers' Association (EATA) and District Two of the National Athletic Trainers' Association (NATA).