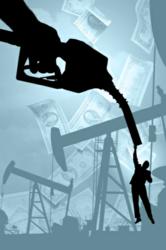 The oil companies are lining their coffers at the expense of the consumer.
New York, NY (PRWEB) November 11, 2012
In a recent Investment Contrarians article, editor George Leong reports that the price of regular gasoline averaged $3.57 per gallon across the U.S. as of October 29, which is still well below the historical average U.S. high of $4.11 per regular gallon, reached on July 18, 2008. (Source: U.S. Energy Information Administration, last accessed November 5, 2012.) Leong notes that while oil prices have fallen to the $85.00 level, the price of gasoline continues to be stubbornly high. Leong states that with gasoline prices holding at the pumps, the jump in fuel costs will likely impact the disposable income of consumers at a time when consumer spending is under pressure.
According to Leong, there is absolutely little connection between oil prices and gasoline.
"The reality is that the government accounts for 11% of the cost of gasoline, with nine percent for distribution and marketing, 18% for refining, and 62% for the cost of the crude," reports Leong. (Source: U.S. Energy Information Administration, last accessed November 5, 2012.) "In other words, the oil companies are lining their coffers at the expense of the consumer."
"There is some 'price elasticity' for gasoline prices in the short term, as movements in prices tend to be 'inelastic', since consumers minimally alter usage," explains Leong. "In the short term, driving may be cut, and the use of public transport will rise. There could also be a decrease in road trips, which will have an impact on the hospitality business, such as hotels and restaurants."
But, as Leong notes, the situation could be worse. The Investment Contrarians editor reports that Canadians paid a whopping average of around $5.09 a gallon, gas prices in Europe are sky-high, and Italy has some of the most expensive gas in the world, at around $9.19 per gallon. (Source: "Petrol Prices Around the World, October 2012," MyTravelCost, last accessed November 5, 2012.)
Of course, Leong concludes, consumers could move to Venezuela where the government-supported oil prices have resulted in the price of gasoline at $0.18 per gallon. (Source: "Why do tax prices vary state to state? It's not just taxes," The Christian Science Monitor, October 9, 2012.)
To see the full article, and to get a real contrarian perspective on investing and the economy, visit Investment Contrarians at http://www.investmentcontrarians.com.
Investment Contrarians is a daily financial e-letter dedicated to helping investors make money by going against the "herd mentality."
The editors of Investment Contrarians believe the stock market and the economy have been propped up since 2009 by artificially low interest rates, never-ending government borrowing, and an unprecedented expansion of our money supply. The "official" unemployment numbers do not reflect people who have given up looking for work, and are thus skewed. They believe the "official" inflation numbers are also not reflective of today's reality of rising prices.
After a 25- to 30-year down cycle in interest rates, the Investment Contrarians editors expect rapid inflation caused by huge government debt and money printing will eventually start us on a new cycle of rising interest rates.
Investment Contrarians provides unbiased research. They are independent analysts who love to research and comment on the economy and investing. The e-newsletter's parent company, Lombardi Publishing Corporation, has been in business since 1986. Combined, their economists and analysts have over 100 years of investment experience.
Find out where Investment Contrarians editors see the risks and opportunities for investors in 2012 at http://www.investmentcontrarians.com.
George Leong, B. Comm., one of the lead editorial contributors at Investment Contrarians, has just released, "A Problem 23 Times Bigger Than Greece," a breakthrough video where George details the risk of an economy set to implode that is 23 times bigger than Greece's economy! To see the video, visit http://www.investmentcontrarians.com/press.