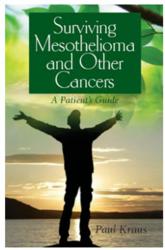 Raleigh, NC (PRWEB) November 10, 2012
Radical pleurectomy/decortication (PD), a surgical procedure for mesothelioma being studied at the University of Pennsylvania, appears to dramatically improve the odds of survival in some patients. In a recent study, of the 38 mesothelioma patients who underwent the procedure at Penn in combination with chemotherapy and light therapy, 27 survived for more than two years afterward and four people lived another five years. In contrast, most mesothelioma patients live for less than one year after diagnosis regardless of the treatment protocol used.
What Causes Pleural Mesothelioma?
Pleural mesothelioma is caused by inhalation of airborne asbestos fibers. After years of irritation and inflammation deep in the lung tissue, tumors may appear on the mesothelium, or the lining around the lungs. The disease is difficult to diagnose as symptoms are not conclusive and can be easily mistaken for numerous other conditions. Initial symptoms of mesothelioma, which often do not appear until the disease is in an advanced stage, include chest pain, difficulty breathing, night sweats, and weight loss.
Narrowing Down the Symptoms of Pleural Mesothelioma
Diagnostic tests such as CT scans and X-rays can help to narrow down the possible causes of symptoms, but a tissue biopsy is usually needed to conclusively identify mesothelioma. Adding to the diagnostic challenge is the fact that, although mesothelioma is known to be caused by asbestos, the disease may not occur until decades after initial exposure.
The chief advantage of the PD procedure is that it does not require puncturing the wall of the lungs or removing a lung. It is believed that the less invasive nature of the procedure may be responsible for the encouraging results that have been observed thus far.
Concurrent with PD surgery, other new treatment modalities for mesothelioma are in development, including gene therapy, immunotherapy, and innovative ways to deliver chemotherapy. At the same time, diagnostic technologies are improving, offering the hope of identifying the disease at earlier stages. While no cure is yet in sight, aggressive research suggests that most mesothelioma patients have the best hope of survival with a multi-modality approach.
About Surviving Mesothelioma:
Surviving Mesothelioma is a website dedicated to providing information, news, and resources for mesothelioma patients and their loved ones. Supported by the Cancer Monthly organization, Surviving Mesothelioma reports on the latest news regarding mesothelioma treatments, information about finding mesothelioma doctors, treatment results, and books and testimonials from mesothelioma patients and survivors.
Disclaimer: The information in this article is for educational and informational purposes only. The content is not intended to be a substitute for professional medical advice, diagnosis, or treatment. Always seek the advice of your physician or other qualified health provider with any questions you may have regarding a medical condition. Never disregard professional medical advice or delay in seeking it because of something you have read in this article. This article was written by a third party and its content reflects the views of the third party and does not necessarily reflect the views or opinions or of Surviving Mesothelioma or Cancer Monthly.