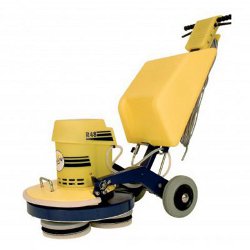 Sydney, NSW (PRWEB) November 11, 2012
Steamaster, a long-established supplier of commercial cleaning equipment has announced its recent procurement of Cimex distribution in Australia. Cimex machines are known as the leaders of Encapsulation cleaning technology and incorporate a unique system that deep cleans carpets so that they remain cleaner for longer.
"As we are constantly looking for ways to expand and improve our services, we're very excited to announce that Steamaster is now an official Australian distributor of Cimex Encapsulation machines," comments Managing Director Tam Le. "Cimex machines clean with a unique low moisture system that allows for fast drying times and prevents the formation of residues that cause re-soiling."
Considered as the leading models within the Cimex Encapsulation range, the Cimex CR38 and Cimex CR48 are now available from Steamaster. Both machines have the ability to scrub and polish floors, and have a wide cleaning path for large surface area coverage. They're also recognized for their quiet operation that allows for their application in noise-sensitive areas.
Other features that are unique to the Cimex CR38 and Cimex CR48 models are reversible brushing action to extend the life of the brushes, a non-clog solution valve for continual operation, a central motor for even brush pressure, and counter-rotating brushes to prevent damage to carpets.
To reduce splashing, water is delivered through the brush centres, while non-marking wheels are in place to prevent floor marks such as bloom rings and halo effects. Built with three reversible floating brushes, these versatile units provide a triple brush action and can also be used to clean grout, tile, and textured natural stone.