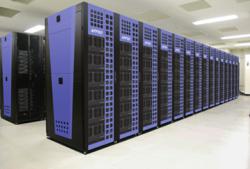 Milpitas, CA (PRWEB) November 12, 2012
Appro (http://www.appro.com), a leading provider of supercomputing solutions, announced today the availability and support of the Appro Xtreme Line of Supercomputers based on the Intel® Xeon® processor E5 family combined with the new Intel® Xeon Phi™ coprocessors to address high performance, energy efficiency, programmability and manageability for scientific technical discoveries. Appro will be demonstrating its new Xtreme Line of Supercomputer at SC12 in Salt Lake City, Utah - November 12-15, booth #2443.
Appro offers two lines of highly advanced supercomputers, Xtreme-X™ based on air-cooling and Xtreme-Cool™ based on liquid-cooling technologies delivering High Performance and Availability Computing. Appro supercomputers are designed for medium to large HPC deployments and are ideal for scaling out datacenters to over 11,000 nodes, with nearly 300 racks offering over 25 PFlops of computing performance. The systems support two socket based on the Intel® Xeon® processor E5 family combined with the new Intel® Xeon Phi™ Coprocessors. The Intel® Xeon Phi™ coprocessor is based on the Intel® Many Integrated Core (Intel® MIC) Architecture and is designed to work synergistically with Intel's Xeon processor family to increase developer productivity via programming models and tools that are common with the Intel® Xeon® processor. It offers the highest levels of parallel performance powering breakthrough innovations to address many applications in science and business. The new Inte Xeon Phi coprocessors feature more than 50 cores, utilize a PCIe card form factor with actively or passively cooled thermal solutions and a memory size up to 8GB GDDR5. Each card can deliver in excess of 1 TFLOP/s of double precision peak compute performance. The new Appro supercomputers will provide improved performance, scalability and value over prior offerings. The system is deployed with the Appro HPC Software Stack combined with the powerful Appro Cluster Engine™ management software featuring critical monitoring and reporting that scales for all compute-intensive HPC workloads.
"We are pleased to make available the next generation Appro Supercomputers based on Intel® Xeon® processors E5 family with a compatible option for Intel® Xeon Phi™ coprocessors to be at the heart of our systems," said Daniel Kim, CEO of Appro. "The combination of these processing technologies represents a leap forward in developing applications for parallel workloads while improving floating point performance, operational efficiency, and optimizations as new applications are introduced and updates to existing software packages are released."
"Researchers pressing the future of scientific discovery are looking for not only outstanding performance and energy-efficiency, but also programmability and manageability", said Dr. Rajeeb Hazra, VP Intel Architecture Group and GM Technical Computing, Datacenter and Connected Systems Group. "Appro's supercomputing solutions which combine the power of Intel® Xeon® processor E5 family with the programmability and energy efficiency of the Intel Many Integrated (Intel® MIC) architecture based Intel® Xeon Phi™ coprocessors meet this need and establishes a new standard for both programmer productivity and performance per watt."
About Appro
Appro is a leading developer of innovative supercomputing solutions. Appro is uniquely positioned to support High-Performance Computing (HPC) markets focusing on medium to large-scale deployments where lower total cost of ownership is essential. Appro accelerates technical applications and business results through outstanding price/performance, power efficient and fast time-to-market solutions based on the latest open standards technologies, innovative cluster tools and management software packaged with HPC professional services and support.
Appro supercomputing solutions enables scientists and engineers to use data-intensive, capacity, capability and hybrid computing for scientific research, data modeling, engineering simulations, and seismic visualization. Appro's headquarters is located in Milpitas, CA with offices in Korea, Japan and Houston, TX. To receive automatic Appro news and feature stories, subscribe to Appro RSS feeds at http://www.appro.com, also visit us on Facebook at http://www.facebook.com/ApproSupercomputers or interact with us at http://twitter.com/approhpc