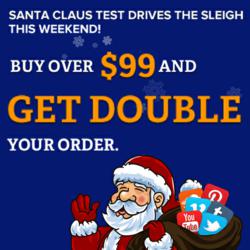 Customers will get double for what they paid for on this promo happening for only two days this Saturday and Sunday.
Ottawa, ON (PRWEB) November 10, 2012
BuyRealMarketing, a worldwide provider of social media solutions to industry promoters, managers, marketers, and business owners, treats its clients and customers to an early two-day Christmas deal happening this weekend November 8-11. It looks like Santa Claus is doing a test run for the sleigh this weekend and is dropping by for an early treat.
The company has notified its loyal customers and resellers through an internal communication by email earlier this week. The message has been accepted with overwhelming enthusiasm as previous clients and even resellers are holding off non-urgent bulk orders to be placed this weekend when the promo is being run.
According to insider report, every time the company's marketing management releases a promotion of increased perks, operational and organizational efforts are doubled to ensure demands are met satisfactorily.
To avail of exclusive information and updates as well as get the company's services for a lower price, one can sign up at the BRM Client Portal™.
The forecast this Saturday and Sunday is certainly "busy days" for the entire customer service and delivery teams. However, helpful convenient measures are already in place.
About the Early Christmas Deal
The Santa Claus deal is open to everybody and applies to all BuyRealMarketing services. A notification email will be automatically sent once a buyer has qualified for the promo and is eligible to get double of what they have bought. The system will immediately detect purchases of over $99 on any services and automatically informs and rewards the customer with an additional 100% of the amount/quantity bought without any additional charges.
Customers will get double for what they paid for on this early Christmas deal active for only two days, this Saturday and Sunday.
For more information, one can visit the BuyRealMarketing website at http://www.buyrealmarketing.com/ or call customer service at 1-877-435-5955, email hello[at]buyrealmarketing[dot]com or chat with their live assistants via the company website.
About the Company
Buy Real Marketing is well-established internet marketing firm founded in 2010 by Jean-Patrick Bisson, Diana Quartin and Jonathan Kennedy. The company specializes in driving search marketing and social media traffic, social web app development and conversion optimization. Each product or service specifically helps small/medium website owners increase online visibility and improve online sales.