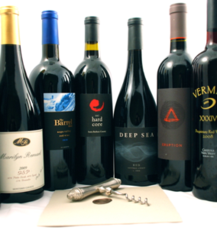 Wine Battles lets your learn about wine while exploring boutique red blends.
San Diego, CA (PRWEB) November 09, 2012
Wine Battles announces the 'Push Your Palate Battle', eight boutique red blends battle it out until only one is standing. The new educational wine site combines the exploration of new wines with a tournament style competition that teaches participants about wine.
Each week, members drink and rate the two of the eight wines selected for the tournament. The Wine Battles team choose eight red blends from the 60 wines they sampled. "We tasted some of the most amazing red blends in the world and selected eight for the tournament," state CEO Mike O'Brien, "we choose wines that were fantastic but also had distinct qualities that would enable our members to expand their palates."
The pairings for this tournament are:
Week 1:
Marilyn Remark Winery 2009 GSP v Ehret Family Winery 2007 Bella's Blend
Week 2:
Conway Family Wines 2008 Red v Brassfield Estate Winery Eruption Red 2010
Week 3:
Vermeil Wines 2008 Red v Vina Robles Winery 2008 Sryee
Week 4:
CORE Wines 2007 Hard Core v Hill Family Estate 2010 Barrel Blend
Week 5: Semi-Finals
Winners of Week 1 and Week 2
Week 6: Semi-Finals
Winners of Week 3 and Week 4
Final Battle: Week 7
Winners of Week 5 and Week 6!
Enroll for this battle before November 17 to participate.
Email: Jamie Collins (jaimec (at) winebattles (dot) com) for more information.
About Wine Battles
Wine Battles is revolutionizing the wine industry. Its tournament-style wine competition allows you to drink, review and vote on wines. Each week of the tournament you and your partner will receive two bottles of wine and help decide the winner. Enjoy the amazing wines we curate, expand your wine knowledge directly from the wine's makers and engage in a social competition where picking the winning wine moves your ranking up! See how it works.