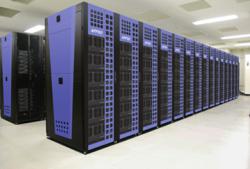 Salt Lake City, Utah (PRWEB) November 12, 2012
Appro (http://www.appro.com), a leading provider of supercomputing solutions, announced today the availability and support of the Appro Xtreme Line of Supercomputers based on the NVIDIA® Tesla® K20 family of GPU accelerators to deliver record application speeds for a broad range of technical applications. Appro will be demonstrating its new Xtreme Line of Supercomputers at SC12 in Salt Lake City, Utah - November 12-15, booth #2443.
Appro offers two lines of highly advanced supercomputers, Xtreme-X™ based on air-cooling and Xtreme-Cool™ based on liquid-cooling technologies, delivering high performance and availability computing. Appro supercomputers are designed for medium to large HPC deployments and are ideal for scaling out data centers to over 11,000 nodes, with nearly 300 racks offering over 25 petaflops of computing performance.
These systems support two sockets based on the Intel® Xeon® processor E5 family, combined with two sockets for the new NVIDIA Tesla K20 GPU accelerators announced separately today. Based on the revolutionary NVIDIA Kepler™ compute architecture, the NVIDIA Tesla K20 family of accelerators delivers three times the performance per watt of previous-generation GPUs, accelerating a broad range of scientific, engineering and commercial high performance computing (HPC) and data center applications.
The Tesla K20X GPU accelerator is the new flagship of NVIDIA's Tesla product line. It provides the industry's highest single and double precision peak floating point performance—3.95 teraflops and 1.31 teraflops, respectively. The Tesla K20 GPU accelerator provides 3.52 teraflops of single precision and 1.17 teraflops of double precision peak performance.
The Tesla K20 accelerator features a single GK110 Kepler GPU with 2,688 cores per card. It also includes Dynamic Parallelism, which enables GPU threads to spawn new threads automatically by adapting to the data without going back to the CPU. In addition, the Hyper-Q feature enables multiple CPU cores to simultaneously utilize the CUDA cores on a single Kepler GPU while dramatically increasing GPU utilization.
The Tesla K20 accelerators are ideal for the most challenging high-performance computing workloads, including climate and weather modeling, CFD, CAE, computational physics, biochemistry simulations, and computational finance. Appro's new supercomputers based on the NVIDIA Tesla K20 accelerators will provide 10x improved application performance per watt. The system is deployed with Appro's HPC Software Stack combined with the powerful Appro Cluster Engine™ management software featuring critical monitoring and reporting that scales for all compute-intensive HPC workloads.
"We are pleased to make available the next generation Appro Supercomputers based on NVIDIA Tesla K20 accelerators to provide outstanding double precision performance that will simplify parallel programming," said Daniel Kim, CEO of Appro. "The new Appro Xtreme Line of hybrid processing systems offer improved GPU threads and additional monitoring and management capabilities that can be easily used as part of the Appro HPC Software Stack."
"The NVIDIA Tesla K20 GPU accelerators are the highest performance, most efficient accelerators ever built," said Sumit Gupta, general manager of the Tesla accelerated computing business at NVIDIA. "With Tesla accelerators added to the Appro Xtreme line of supercomputers, which feature advanced software monitoring and management support, HPC customers have power and flexibility to accelerate a broad range of compute-intensive application and workloads."
About Appro
Appro is a leading developer of innovative supercomputing solutions. Appro is uniquely positioned to support High-Performance Computing (HPC) markets focusing on medium to large-scale deployments where lower total cost of ownership is essential. Appro accelerates technical applications and business results through outstanding price/performance, power efficient and fast time-to-market solutions based on the latest open standards technologies, innovative cluster tools and management software packaged with HPC professional services and support.
Appro supercomputing solutions enables scientists and engineers to use data-intensive, capacity, capability and hybrid computing for scientific research, data modeling, engineering simulations, and seismic visualization. Appro's headquarters is located in Milpitas, CA with offices in Korea, Japan and Houston, TX. To receive automatic Appro news and feature stories, subscribe to Appro RSS feeds at http://www.appro.com, also visit us on Facebook at http://www.facebook.com/ApproSupercomputers or interact with us at http://twitter.com/approhpc