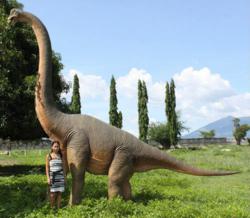 The Interior Gallery has an impressive collection of nearly 400 different types of animal statues
Carrolton, Texas (PRWEB) November 12, 2012
TheInteriorGallery.com just added new dinosaur statues to their amazing collection of animal statues. Some of the new models happen to be exact life size replicas of dinosaurs such as the 15 feet Standing Brachiosaurus and the 7 feet Standing Stegosaurus which are very impressive. Buyers who are worried that these life sized dinosaur statues may not fit in their homes could also check out the smaller models of these prehistoric animals.
These life sized dinosaur models are great for both outdoor or indoor use depending on the model chosen. The outdoor models are ideal for gardens, commercial areas such as zoos, golfing and miniature golf ranges along with museum spaces. Customers who wish to have any of these dinosaur models placed as garden animal statues are recommended to have a layer of polyurethane coated on the statues prior to placing the statues outdoors in order to protect them from weathering.
Other new dinosaur models offered would be the life size replica of a Hanging Baby Pteranodon Statue and the Dromaeosaurus which has its mouth wide open showing rows of sharp teeth. These are bound to be a conversational piece whether displayed indoor or outdoor.
The Interior Gallery has an impressive collection of nearly 400 different types of animal statues. Other than the dinosaur statues, the company also carries a range of safari animals, jungle animals, various birds, forest animals, reptiles, farm animals and many more. These could be seen on the company's website under the Statues and Décor category.
The company's large collection of animal statues are hand crafted and made from resin mold. Each piece is also hand painted to the highest detail in order to replicate the features of these animals. The famous San Diego Zoo happens to be one of the company's clients.
The Interior Gallery is a factory direct company where all their products are custom designed for them by manufacturers and shipped directly to their main distribution center in Carrollton, Texas. Interested buyers or customers could review all the physical products that are offered by the company at their newly opened $3 million showroom located in Allen, Texas.
Powered by professional shopping cart, InstanteStore, the company offers shipping within the United States and to Canada. Products purchased online will ship within 1 – 2 days via freight truck.
For more information, please visit the company website at http://www.TheInteriorGallery.com or contact their customer service at toll free 866-205-6867 to find out more about products offered by The Interior Gallery. Customers could also place their orders by phone at 214-614-8176.