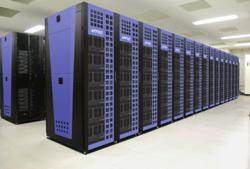 Salt Lake City, UT (PRWEB) November 13, 2012
Appro, a leading developer of supercomputing solutions, today announced that the Appro Xtreme-X™ Supercomputer has been selected for two HPCwire Editor's Choice Awards for 2012. The awards received are for the 'Best HPC Cluster Solution or Technology' and the 'Best HPC Storage Product or Technology', the latter a collaborative project with the San Diego Supercomputer Center (SDSC) at the University of California, San Diego for its Data Oasis Storage System running on the 'Gordon' supercomputer.
The awards were announced during the opening reception for the 2012 International Conference for High Performance Computing, Networking, Storage and Analysis (SC12) taking place in Salt Lake City, Utah. The selection marks the third time that an Appro product has been honored with the HPCwire Readers' and Editors' Choice Awards in the past five years.
"We are very pleased that the Appro Xtreme-X™ Supercomputer has been recognized for the HPCwire Editor's Choice Awards as the 'Best HPC Cluster Solution' and 'Best HPC Storage product', said Daniel Kim, CEO of Appro. "We are very proud to highlight that the SDSC and the world's top three national laboratories supercomputing sites are taking advantage of the performance and productivity gains of Appro's Xtreme-X™ Supercomputer solutions, offering high performance, flexibility, reliability and investment protection that can scale."
"It's an honor to be able to acknowledge organizations like Appro and the individuals behind them who exemplify the hard work and dedication required in developing new technologies that ultimately benefit mankind", said Tom Tabor, CEO of Tabor Communications Inc., publisher of HPCwire. "The awards represent the highest level of recognition by the HPCwire editorial staff and the leaders and luminaries in the high performance computing industry. Our warmest congratulations go out to Appro and to all the recipients of this year's awards."
The highly-coveted HPCwire Readers' and Editors' Choice Awards are determined through online polling of the global HPCwire audience for the Readers' Choice Awards, combined with a rigorous selection process for the Editor's Choice Awards, where winners have been selected by a panel of editorial and executive staff, recognized HPC luminaries, and contributing editors from across the industry. The full list of winners for the 2011 awards can be found at http://www.HPCwire.com.
About Appro
Appro is a leading developer of innovative supercomputing solutions. Appro is uniquely positioned to support High-Performance Computing (HPC) markets focusing on medium to large-scale deployments where lower total cost of ownership is essential. Appro accelerates technical applications and business results through outstanding price/performance, power efficient and fast time-to-market solutions based on the latest open standards technologies, innovative cluster tools and management software packaged with HPC professional services and support.
Appro supercomputing solutions enables scientists and engineers to use data-intensive, capacity, capability and hybrid computing for scientific research, data modeling, engineering simulations, and seismic visualization. Appro's headquarters is located in Milpitas, CA with offices in Korea, Japan and Houston, TX. To receive automatic Appro news and feature stories, subscribe to Appro RSS feeds at http://www.appro.com, or interact with us on Facebook at http://www.facebook.com/ApproSupercomputers or http://twitter.com/approhpc
About HPCwire
HPCwire is the #1 news and information portal covering the fastest computers in the world and the people who run them. With a legacy dating back to 1986, HPCwire continues to be the publication of choice globally by business and technology professionals from academia, government, science, and industry who are interested in high performance and computationally intensive computing. For topics ranging from the latest developments in systems, software, tools and applications, to middleware, networking and storage technologies, HPCwire delivers it all and remains the HPC communities' most reliable and trusted resource. For additional information and to subscribe, please visit: http://www.hpcwire.com