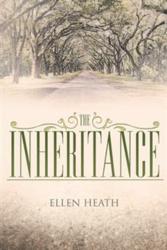 I hope that any woman reading this book, and especially those who have been victimized in some way, will be inspired to act with similar courage
SANTA FE, N.M. (PRWEB) November 12, 2012
In the new novel "The Inheritance" (published by Abbott Press), author Ellen Heath crafts a compelling tale of love, betrayal and sordid family histories.
Born in Mississippi and raised by her late aunt in a Tucson, Ariz., trailer court, Martha Stahlings has created a very successful life from a humble and mysterious beginning. Now, in the wake of a family death, she and her husband will return to their roots for reading of a will. "Going home" gives Martha the opportunity to find out who she really is.
An excerpt from "The Inheritance":
"Sam had never entirely understood his family's abrupt exodus from Atheneum, and Martha knew even less about the reason for her own departure from Mississippi. After her mother's death, her aunt had spirited her out of the state when she was still a toddler for reasons never explained. This upcoming trip represented the opportunity for both husband and wife to retrace the early journey over which neither had had any control. As she had suggested, they would be heading home, as in the places where they had been born, and she was both excited and a little apprehensive."
"I hope that any woman reading this book, and especially those who have been victimized in some way, will be inspired to act with Martha's courage," Heath says. "In fact, her triumph in the end suggests that they too can be the agents of transformation."
"The Inheritance"
By Ellen Heath
Softcover | 6 x 9 in | 170 pages | ISBN 9781458202680
E-Book | 170 pages | ISBN 9781458202697
Available at Amazon and Barnes & Noble
About the Author
Born in Louisiana and raised in El Paso, Texas, Ellen Heath received a bachelor's degree in English from Stanford University. Her wide-ranging career in communications began with working for several members of Congress and the Senate Banking Committee in Washington, D.C. In Houston, she handled government relations for Cooper Industries and public affairs for The Methodist Hospital before establishing her own freelance writing business. Heath lives and writes in Santa Fe, N.M.
Abbott Press, a division of Writer's Digest – the oldest and most respected publisher devoted to the education and advancement of writers – is an indie-publishing imprint dedicated to helping writers bring their literary vision to print. Author Solutions, Inc., a leader in indie book publishing, will fulfill publishing, sales, and marketing services for Abbott Press. For more information, or to begin publishing a book today, log on to abbottpress.com or call 866-697-5310.
###