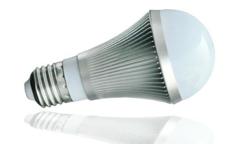 (PRWEB) November 23, 2012
Zhongtian Lighting, a leading LED light manufacturer in China, releases 5W LED bulb to replace the conventional bulbs. The [ZT-G65E27-511A] is relatively easy to change the color, allowing users to create different environments or adapt to different lighting situations or needs. It is also suitable for where bright light is needed immediately, such as in bathrooms, garages or storage rooms. For the amount of light is sufficient to look for in the LED bulb housing the number or value of lumens. For example, between 800 and 900 lumens of light is an amount equivalent to an incandescent bulb of 60 watts of power, but the LED bulb consumes only about 10 or 12 watts.
Besides, Zhongtian Lighting overwhelms the stereotype of lighting bulb, the streamline shape with unique design makes LED Bulb not just possess the function of lighting but become part of design in home aesthetics. With no warm-up time required as well as very low heat emission levels, the all-new [ZT-G65E27-511A] LED bulb light has no harmful UV or IR radiation emissions. Taking an AC power source input voltage of 85-264V, these LED bulbs can operate in temperatures ranging from -20°C to +40°C and be positioned with a beam angle of 30º or 45º as desired. It is dust-proof and able to withstand high-powered jets of water, offering a 3-year warranty. Zhongtian Lighting stands behind the quality of each product they manufacture.
The new design achieves a perfect balance between the size of the heat sink and the space between the cooling fins for air circulation achieve clear and effective evacuation of heat. The result is a lighter and smaller lamp that provides a luminous flux of 400 lumens and offers class-leading performance. The [ZT-G65E27-511A] led bulb is available at color temperature of 2700K-3500K, 4000K-4500K and 5500K-6500K. Its standard lamp holder can directly replace the existing halogen lamp, incandescent lamp, and fluorescent lamp. All these factors obtain the 5W bulbs a stable performance and a long lifespan.
Zhongtian Lighting is striving to offer customers the high quality products as well as good after-sale services. It also continues to develop new and cost-effective products to help save energy for making a green earth and bright world. For more information, please visit its website http://www.ledlampshopping.com/category-19-b0.html.