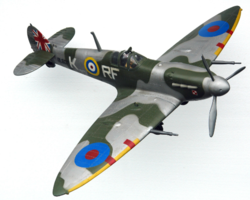 The F-16 is well detailed and is almost 4 feet in length.
Allen, Texas (PRWEB) November 13, 2012
The Interior Gallery aims to target avid aircraft collectors this Christmas with its Aviation decor sale. The collection ranges from the ornate looking Montgolfier Balloon to a massive DC-3 model airplane. There are about 20 aviation decor models on sale.
Avid collectors and those interested in aviation themed decor may look forward to up to 30% off retail prices for all items in the web store's Aviation Decor category. This could translate to a savings of a whopping $1,700 for a 175 inch DC-3 model airplane.
Some models are made to scale but there are also wooden models which are very popular with collectors for aesthetic reasons. These models measure in at around 18 inches in length and costs between $56 and $130.
The company states that every single model airplane displayed on its online store can also be found at its massive showroom in Allen, Texas.
There are certain models in the collection which standout for different reasons. The F-16 and the Stealth bomber will appeal to those who appreciate newer aircraft. The F-16 is well detailed and is almost 4 feet in length.
For those who prefer classic fighter aircraft, the Mustang and the Spitfire would be a shoe-in favorite. The P-51 Mustang is likely the most recognized WW II fighter plane with over 15000 units built.
The Mustang model at The Interior Gallery is over 11 feet in length. The actual Mustang fighter aircraft is just over 32 feet long. Needless to say, just like the actual fighter, the model would not fit in a common living room. However, it cannot be denied that its appearance is impressive and a must-have for hardcore collectors.
Aviation Decor is just part of a huge collection of themed decor available at The Interior Gallery. Many of the items sold on the site, like the Betty Boop collection, are collectors items. The company is also well known for its range of bathroom vanities, home furniture and statues. All of its products are competitively priced with some items offered at 50% discount.
The company assures customers that although prices have been slashed, quality has not. The company is able to offer some items at heavily discounted prices because they are directly imported from manufacturers, avoiding middlemen markups.
The Interior Gallery is committed to providing products of value at the highest quality to its customers. All products are inspected individually, repackaged with industrial strength packaging materials before being shipped to customers.
For more information about The Interior Gallery, please visit http://www.theinteriorgallery.com/