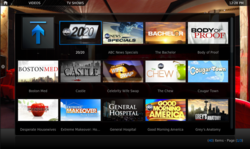 "Imagine sitting in front of the television and being able to watch anything that has ever existed; there's so much content available that it's actually difficult to decide what to watch and when," said Adam Lack, an XBMCHUB.COM representative.
New York, NY (PRWEB) November 13, 2012
XBMC is a free, open source software that can be installed to a variety of different platforms including but not limited to Mac, Windows, iOS, and Android OS. It offers way too many features to list, the most popular probably being the ability to interface with online streaming web sites. The XBMC software was first released in 2003, and despite its low profile has a million plus worldwide following, many of whom have already cancelled their conventional cable or satellite subscriptions.
The content available on XBMC is endless, it grants access to access pretty much every movie and television show ever made with less than a few clicks of a remote, in addition to live sports and channels from across the globe. It also provides the ability to listen to music and other cool content available online, such as content available through cyber locker servers. XBMC legally eliminates the consumer's need to ever pay for any digital entertainment again. Expansion of the player is made possible through the use of third party add-ons, some of which interface with television network web sites, while others interface with the sketchier side of online streaming.
People are already accustomed to watching television online, but this is a game changer. Through a simple interface similar to that of a video on demand system, it's possible to browse and play online media at will, without any ads, popups, additional software to install, or viewing limitations. Since the release of XBMC for Android, there has been a large influx of consumers that have chosen to install the software onto set top boxes such as the Pivos XIOS DS, which plug directly into any television and connect wirelessly to the internet, making the XBMC experience even more enjoyable.
Installation is extremely easy. Once the desired platform is chosen or platform, all that's needed is to install XBMC and then enable the add-ons you desire. Updates are automatic and no technical experience is needed to take full advantage of everything the software has to offer. It's one of those products that truly change the way people live on a daily basis.
XBMCHUB.COM provides free support and the best third party add-ons for the XBMC media player. Readership is increasingly growing and the site currently caters to thousands of new visitors daily. It is a peer based community made possible thanks to the dedication of countless loyal volunteers. For more information about XBMC, visit http://www.xbmchub.com.