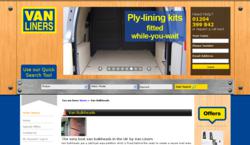 If you wedge a twenty pence piece into the tread and it doesn't obscure the border on either side of
the coin, your tyres need replacing. The border on the coin is exactly the right depth to assess the state of your tread
Bolton, Lancashire (PRWEB) November 09, 2012
As new tyre labelling legislation is announced, new research reveals how UK motorists are putting their lives at risk with a shocking knowledge of tyres.
Shaun Taylor is sales manager at Bolton-based Vanliners, who supply ply lining for a range of commercial use vehicles across the country:
'In many areas of road safety, tyres have not seen the same level of investment even though they are the fundamental component between the car and the road surface.'
Tyre manufacturer Goodyear polled 2,000 drivers and revealed that 70% did not perform a monthly air pressure check, over half were not aware of the 1.6mm legal tread depth limit and 13% did not realise that stopping distances increased in wet weather. Furthermore, 58% of motorists did not know what make of tyres were currently on their vehicle.
Vanliners has been supplying ply lining for over fifteen years. Sales manager Shaun Taylor supplies van ply lining for vehicles across a range of industries: 'When you're an employee who drives as an essential part of your job, or a manager of a fleet of drivers, these figures make for alarming reading especially when you consider the potential amount of road traffic incidents that can be caused by below standard tyres.'
The real concern for safety campaigners was when checks on 30,000 vehicles this year reported that 53% of tyres from these vehicles were well below the legal tread depth.
'A general rule of thumb when checking the depth of your tyres is to use a twenty pence piece,' At Vanliners, Shaun Taylor provides bespoke van ply lining and van racking for vehicles intended for commercial use across several very different sectors. 'If you wedge a twenty pence piece into the tread and it doesn't obscure the border on either side of the coin, your tyres need replacing. The border on the coin is exactly the right depth to assess the state of your tread.'
The research results are revealed as new Europe-wide labelling legislation came into effect on the 1st November, which uses a label system to illustrate the tyre's performance based on a three tier criteria of external noise, wet grip and fuel efficiency.
Shaun Taylor supplies van racking to a number of companies across the UK:
'This new label system is relevant to all motorists. It will encourage drivers to ensure that their tyres are both legal and safe, hopefully reducing incidents for everyone on the UK's roads.'
The label system introduced as a result of EU legislation will help motorists and consumers make more informed choices about which tyre is suitable for their vehicle and driving purpose.
Each tyre has a range of ratings similar to those currently used for domestic white goods, grading fuel efficiency, energy performance and wet braking grip from A to G with noise measured in decibels.
'Hopefully this system will encourage both personal motorists and those who are on the roads as an essential aspect of their day-to-day employment to pay attention to the state of their tyres,' says Vanliners sales manager Shaun Taylor who has been providing van racking for over fifteen years. 'The results of the research confirm that many overlook the state of their tyres without realising how essential the depth of their tread is and how it corresponds to that all-important safe stopping distance.'
Although Goodyear welcomes the labelling system, it only recognises the Europe-wide legislation as the first rung on a progressive ladder.
'Three criteria don't tell you how a tyre will perform on every level,' says Goodyear's marketing director, Eddy Geerdink. 'There are many other factors to consider, from braking on dry roads and high speed stability to aquaplaning and how many miles the tyre will do.'
Shaun Taylor, sales manager of Vanliners provides van roof racks and a range of accessories for commercial use vehicles: 'Although there are many other factors to consider when rating a tyre, this legislation will provide a valuable starting point for drivers who have perhaps never before considered the state of their tyres and the impact they can have on the overall experience of driving a vehicle.'
'To give you the full story, the label only covers three criteria, independent magazines will often test 15 factors to reach a conclusions and at Goodyear we take 50 performance criteria into consideration when developing a tyre,' says Eddy Geerdink, Goodyear's marketing director. 'The results from this survey show how much more work is needed to be done to better educate motorists on the importance of tyre maintenance. Hopefully, the introduction of the new tyre label will make everyone think about how the right tyre choice can improve road safety.'
Shaun Taylor is a supplier of van bulkheads: 'In many areas of road safety, tyres have not seen the same level of investment even though they are the fundamental component between the car and the road surface. This legislation will encourage drivers to make their vehicles safer by forcing them to take responsibility for the state of their vehicle's tyres. I'm urging all of our customers, particularly those who manage employees and large vehicle fleets to review their daily Health & Safety procedures to ensure that they will correspond to this latest version of EU Legislation.'
This press release was written by Bolton web designers and SEO specialists - Vizcom