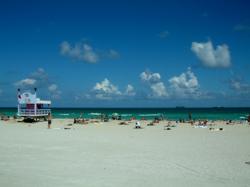 (PRWEB) November 12, 2012
The Villa by Barton G, located in Miami South Beach, has earned the distinction of being Florida's most expensive hotel. That is the finding of a recent survey conducted by Luxury-Hotels.com. After an exhaustive comparison, the survey established the 20 most expensive hotels in the USA for the period spanning June through September 2012.
In order to stay at the Villa by Barton G, summer travelers had to spend an average of $1056 per night for a standard double room. That figure firmly ranks the hotel as the most expensive in Florida but positions it only ninth most expensive among all accommodations nationwide. The honor for being the country's most expensive hotel goes the Ranch at Rock Creek. Located close to the historic mining town of Philipsburg, Montana, this luxury dude ranch most recently went for an average price of $2279 per night.
Another hotel in Florida made it into the Top 20: the Little Palm Island Resort. Situated in Florida's Lower Keys, this island getaway ranked at position #18 on the survey at an average rate of $840 per night.
Following are the 10 most expensive hotels in the USA for the period spanning June through September 2012. The rates listed reflect the average overnight price for the most affordable double room.
1. Ranch at Rock Creek (Philipsburg, Montana) $2279
2. The Point (Lake Placid, New York) $1848
3. Brush Creek Ranch (Saratoga, Wyoming) $1770
4. Twin Farms (Barnard, Vermont) $1698
5. Mii Amo (Sedona, Arizona) $1560
6. Firehole Ranch (West Yellowstone, Montana) $1414
7. Amangiri (Canyon Point, Utah) $1284
8. Auberge du Soleil (Rutherford, California) $1085
9. The Villa by Barton G (Miami Beach, Florida) $1056
10. The Resort at Paws Up (Greenough, Montana) $1021
For the full rankings of the survey, and for more information about its methodology, visit http://www.luxury-hotels.com/press/survey-usa-2012.html.