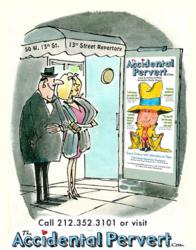 "Enough praise cannot be given." - BroadwayWorld.com
NYC, New York (PRWEB) November 15, 2012
Right in the heart of West Village, there's a play which has been extended three times, won the praise of theatre critics and the press, and continues to draw sellout crowds after 4 years. What is this play, you ask? It's The Accidental Pervert, it's a comedy about relationships and sex, and it's hilarious.
Sex is one of those subjects which has moved from being taboo, to being in a kind of grey area that no-one really knows what to do with. In any group of people, you'll have some who will never talk about it, some who will talk reluctantly about sex in private, and some who wear sexuality on their sleeves as a distinct form of identity.
Into this confusing situation walks Andrew Goffman, writer and star of The Accidental Pervert - "Sex is difficult to talk about, so it's much easier and more entertaining to watch a good, funny story on stage about sex and growing up. That's what The Accidental Pervert is."
With a 4 year run of sellout shows every Friday and Saturday night, Goffman must be doing something right. "Yes, I think the story strikes a chord with people. These issues don't get talked about. Everybody knows about porn, or at the very least worries that their children or partner are looking at it. What does it mean? How does it affect us? We don't really know yet the impact of so much widespread access to pornography that exists today. A lot of it is about sharing stories, and this is my story. It's about relationships."
Goffman is trying to highlight the serious, as well as the funny side, of his play: "We're trying to reach out to counselors and therapists as well, we have had over 30 relationship therapists come to the show in the past few months, and I was interviewed on New Beginnings therapy radio last week about the show." (listen to the interview here)
The Accidental Pervert is a unique theatre experience - one man's journey into a world filled with humor and innuendo, giving the audience a chance to laugh and reflect on some serious issues at the same time. Go see it.
----------------------------------------------------------
The Accidental Pervert is a laugh-filled show with a serious underlying theme. For three years, Andrew has been entertaining sold out crowds with the story of what happened after he found his Dad's stash of adult videotapes when he was eleven years old. He takes the audience on a comic journey through his porninfluenced eyes, to reveal how his exposure to pornogrpahy overshadowed his relationships with women for many years, until he finally became a loving husband and father.
The play is also running in Buenos Aires, starring the popular Argentine comic, Cabito.
The show runs every Friday and Saturday night at 7pm at The 13th Street Repertory Company in NYC.
For tickets and more information about The Accidental Pervert, visit http://www.theaccidentalpervert.com