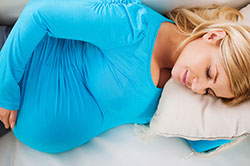 a couple months later.. I got the call from her with the news that she was pregnant!
Beverly Hills, CA (PRWEB) November 11, 2012
This week the online hypnosis website Natural Hypnosis launched a new product; a series of hypnosis sessions to aid fertility. The five hypnosis sessions gradually take the listener deeper and deeper to aid relaxation, combat stress and subtly remove any doubts, limiting beliefs or negative associations - all with the aim of aiding the fertility process.
American Hypnosis Association hypnotist and founder of Natural Hypnosis, Brennan Smith says it is something he has always wanted to to bring to a wider audience after his experiences with clients in his private practice.
He spent 6 months writing, researching, and then recording the unique 5 sessions which compromise the most comprehensive set of hypnosis recordings in this specific area available worldwide.
How it Works
To those new to hypnosis, it can sound mysterious, but really it works from a few different angles to help overcome mental blocks and negative beliefs about getting pregnant:
Overcoming stress - Stress is such a critical factor. If there is stress involved while trying for a baby then it becomes a struggle.. which can lead to more stress and things can really spiral out of control the more you struggle, the more stress you experience, and then the more you struggle... things can really spiral out of control.
Aiding relaxation - Relaxing and enjoying the process is critical. The process should be enjoyable, relaxing and exciting.. but sometimes stress and fear get involved and make it impossible to simply relax.
Help you overcome your fears - After a few fertility struggles many women develop fears and limiting beliefs ("I can't conceive," or "There's something wrong with me," etc) and those fears and beliefs actually limit fertility. 
Promoting positive thinking - Often in modern society it is common to spend years using contraceptives, wishing not to get pregnant... spending a decade thinking like this and then just suddenly flipping it can be easier said than done.
So really, hypnosis works in a simple way. It releases the mental blocks of limiting beliefs, reduces stress, creates relaxation, and fosters an expectation of positive fertility -- it takes ownership of the mental side of becoming pregnant. 
Find out more about the series of hypnosis sessions for fertility from Natural Hypnosis and Brennan Smith here:
http://www.naturalhypnosis.com/fertility-hypnosis