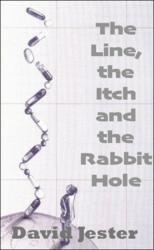 It's dark and it's depressing, but it's funny.
Northumberland, England (PRWEB) November 10, 2012
"It's like an itch that you desperately need to scratch," writes author David Jester, referring to his struggle with Tourette's Syndrome and the multitude of tics it encompasses. "It's hell, but there's a sense of comedy in everything we do, and to an outsider it probably looks very funny."
He had his first tic aged 7, yet wasn't diagnosed with the illness until he was in his twenties (thanks, rather bizarrely, to an episode of South Park), a time-period that spanned a number of mental illnesses, drug addictions and personal torture, including an episode of dystonia, a stay in a psychiatric hospital (where he met Jesus Christ) and an 'accidental' suicide attempt.
Jester tells his story in his brand new autobiography "The Line, the Itch and the Rabbit Hole", available now on Kindle. "A very witty, easy to read book" according to one reviewer, highlighting the comical edge which runs through this occasionally dark, and often hilarious, memoir.
"It is dark," admits David, "there are a number of tragic elements and stories in it, but it is written in a light and refreshing style that doesn't take itself too seriously. Mainly because I don't take myself too seriously."
About the author:
David Jester is the pseudonym of a novelist and short story writer living in the North East of England. "The Line, the Itch and the Rabbit Hole" is an autobiographical account of his childhood and adolescence in West Yorkshire and Northumberland.
You can find David and his book on Facebook follow him on Twitter or read his blog.
The Line, the Itch and the Rabbit Hole is available now on Kindle from Amazon.com and Amazon.co.uk for just $0.99 (£0.77).