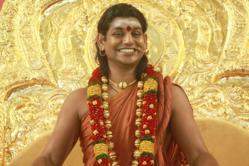 AWAKENING IS THE ONLY SOLUTION
(PRWEB) November 09, 2012
As part of the Awakening the World Tour 2012, Paramahamsa Nithyananda is urging humanity to bring its awareness to the extraordinary confluence of cosmic energies happening as part of the 2012 phenomenon, a natural evolution that is engulfing the earth.
He said, "Just as how God is too vast to be packaged under the label of one religion, same way, this conscious evolution is a huge spiritual wave which is causing all religions to get awakened. All spiritual truths from all religions are getting awakened to help the human beings to awaken to a higher state of consciousness, all over the world.
Aligning one's life to this awakening is the only solution and the best way to use this spontaneous energy flow for melting down millions of problems one faces in the state of human consciousness. Once we are awakened, the problems will not even be there for solutions to be given, similar to how on waking up, the dangers in a person's nightmare disappears.
To help a person screaming in fright while experiencing a nightmare in which he is being chased by lions and tigers, one should simply tap the person hard enough to wake him up and relieve him from his problems and suffering, instead of giving him a gun to kill the lions and tigers!
Avoiding spiritual techniques and requesting a immediate solution for problems would be similar to a person asking for a gun instead of waking up from the nightmare."
Paramahamsa Nithyananda, while giving simple practical tips said, "Awakening to the higher reality is possible when one's life is aligned to raising the quality of the three states of consciousness, namely the waking, dream and sleep state. This can be achieved by working on just the waking and sleep state. While one is in sleep state, increase the quality of sleep and while in waking state, one should be intensely in waking state without allowing the dream or sleep state to enter it. For example, to improve the quality of waking state, at least for 21 days, when working, one should feel the decisions being made, when driving, one should feel even the seat one is sitting on, when brushing teeth, just brush teeth, when in vacation, one should not think about the working day. Improving the quality of waking state will lead to raising the quality of sleep state also. One should maintain these three states of waking, dream and sleep like watertight compartments without allowing any one state to get polluted by the other two."
While answering questions from the audience in Slovakia, His Holiness Paramahamsa Nithyananda said, "One with a state of enlightenment will not experience any pulling or pushing in life. Instead they would feel the life ahead of them as an overflowing extension of one's own energy. In a normal person's life, the vacation mood pulls them at the onset of Friday itself and the office mood pulls one's emotions starting on Sunday evening itself, even while one is on vacation. Enlightenment is a state of deep inner peace and restful awareness, where one feels nothing needs to be achieved, even while everything is being achieved. Enlightenment is a permanent state of consciousness which cannot be lost once achieved, and it is a state which possesses the being, but cannot be possessed."
Paramahamsa Nithyananda also said, "The biggest blessing one can receive is the happening of a living Master in one's life. Many people do turn away, because of lack of sincerity to keep the seeking alive, and the fear that the intense transformation will put many of the dreams with vested interests at stake. Man is an animal who cannot survive without dreams, which unfortunately seem to be more important than even food and water.
His Holiness Paramahamsa Nithyananda encouraged the seekers from Slovakia and also the thousands who watched him from across the world to try the 21-day Inner Awakening program. He said, "Inner Awakening is a like a lamp given in your hand. I light the fire, the transmission of the lamp happens. When you walk with that lamp , enlightenment happens. I can only give you the lamp, but you have to walk. Inner Awakening is that transmission of lamp. For 21 days, we work on one's body and mind continuously with 54 different kriyas, yogic processes and initiations into kundalini awakening. Several research studies done on Inner Awakening participants have revealed the awakening of new strands of DNA, and mitochondrial energy levels that are un-achievable through any other means known until now."
About His Holiness Paramahamsa Nithyananda:
His Holiness Paramahamsa Nithyananda is a global leader in the science of enlightenment. Nithyananda is revered as a living saint and a Avatar (divine incarnation) by millions worldwide.
He is the most-watched spiritual teacher on YouTube.com with more than 14 million views, and the author of more than 300 books published in 27 global languages. Nithyananda has been named among the world's top 100 most spiritually influential personalities of 2012. An accomplished yogi and gifted spiritual healer, Paramahamsa Nithyananda has healed diseases ranging from migraine to cancer, often with a single initiation.
For close to a decade now, Paramahamsa Nithyananda has been working with scientists and researchers to demystify the yogic sciences of the Universe, including kundalini awakening, DNA activation, brain-cell regeneration, levitation, materialization and yogic age-reversal.