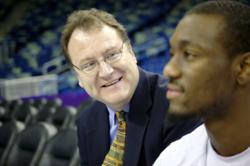 (PRWEB) November 09, 2012
A new book by Loyola University New Orleans political science professor Peter F. Burns, Jr., Ph.D., describes where the University of Connecticut's basketball head coach Jim Calhoun ranks in terms of all-time great coaches. And the book is even more timely as UConn opens the season tonight against Michigan State in the Armed Forces Classic at a Ramstein Air Base hangar—the first regular season basketball game held abroad.
The book, "Shock the World: UConn Basketball in the Calhoun Era" published by Northeastern University Press, doesn't just showcase Burns' love of UConn basketball, he also wrote it to take his mind off the aftermath of Hurricane Katrina. But Burns isn't just a super fan. In 2012, the Princeton Review named Burns as one of the top 300 professors in the country.
Jim Calhoun is the best coach of his generation, according to the book, but his name was not often mentioned among the best coaches in the country. In 2010, a confidential poll of college basketball players named Duke University's Mike Krzyzewski (61.7 percent), Michigan State's Tom Izzo (11.4 percent) and the University of Kentucky's John Calipari (6.6 percent) as the nation's best. At the time, Calhoun had twice as many national championships as Izzo and Calipari combined, but his name was not on the list.
Why is Calhoun the best? Why not Coach K or even Izzo? Calhoun took his teams to four Final Fours, two less than Izzo. But Calhoun won three, two more than Izzo. When Calhoun arrived in Storrs, Conn., the highest number of games a UConn team ever won in a season was 24. In 26 years in Storrs, Calhoun won 30 or more games eight times. Izzo has done it three times in 17 seasons.
Calhoun may not get the respect he deserves, according to the book, because of his cold demeanor, guarded nature and occasional blowups with the media. In 26 years at UConn, Calhoun changed a college basketball program, a state, a university and college basketball itself, according to Burns.