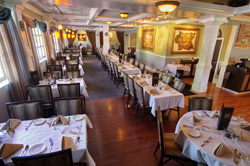 Cupertino, CA (PRWEB) November 12, 2012
Serving up exotic healthy dishes and an ambiance rich with traditions and belly dancing, Arya Restaurant in San Jose is now featuring holiday planning and corporate dining services.
"Join us for memorable holiday time in style!" Fera Hashemi of Arya Restaurant said. "We have many packages available for this time of the year to celebrate the end of the year and help show your staff how much you appreciate their hard work."
The Middle Eastern restaurant offers private dining at both its locations in Cupertino and Redwood City, as well as sit-down, buffet-style and cocktail menus.
Arya Restaurant can host anything and everything, from baby showers, weddings, corporate events, private dining and team-building events to special cooking classes, birthday parties and anniversaries. For businesses, family, friends and special celebrations, the restaurant can seat up to 250 people. In particular, Arya Restaurant seeks to make every guest feel special. Consider Arya Restaurant for the next event.
To make time fun for its loyal clientele, Arya Restaurant also offers live music and belly dancing on Fridays and Saturdays.
Arya Restaurant is located at 19930 Stevens Creek Blvd. in Cupertino and can be reached at 408-996-9606. The second location is at 885 Middlefield Road in Redwood City with a phone number of 650-367-4939. For reservations, or for more information, please call the branch of choice or go to http://www.aryarestaurant.com.
About the company:
San Jose's Arya Restaurant is a Middle Eastern restaurant that features belly dancing, global cuisine, and delicious and exotic Persian and Italian food. With two locations in Redwood City and Silicone Valley/Cupertino, the restaurant is the result of Chef Mike Hashemi's love for Persian and Italian food, as well as his love for cooking and serving people with the best of both worlds. Arya's San Jose banquet rooms are available for every occasion.