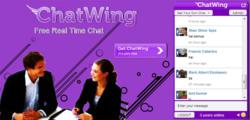 Dallas, TX (PRWEB) November 10, 2012
For many web users, it has been proven that information is one of the most important things in the Internet. Based on global research, online information travels through websites, chat applications, and communities. To empower global information synergy, the Chatwing Development Team has created a live chat widget for web users. In this latest chat app version, Chatwing's developers have ensured that people can have a renewed chat experience.
Website owners can install the Chatwing chat box for their websites. One of the main reasons for this is online visibility. In order for a website to prosper, its owner must be able to generate bouts of traffic within a specified time. Chatwing shoutbox brings online visibility to a website by creating an avenue of communication between the website owner and visitors. Social media integration is also one of the major factors highlighted in the Chatwing app. With this option, Chatwing visitors can log in with their social media accounts.
According to Chatwing's developers, entertainment is also one of the factors of global information synergy. This is the reason why the Chatwing team has added a MP3 link upload option in the free chat box. With this, visitors can listen to music while engaging in lively conversations. The Chatwing team has planned to create a playlist upgrade so that users can add more songs to the chat app.
With the Chatwing chatbox, many web users were able to gather important information without constraining their schedules. Website owners have also experienced efficient connectivity rate with all of their visitors, creating strong bonds. To improve the application further, the Chatwing team will introduce more platform upgrades and developments.
About Chatwing.com
Chatwing.com specializes in the new field of website chat. Over years, the Chatwing team has introduced live chat widget for hundreds and thousands of blogs. The Chatwing application bridges people from many parts of the world, creating global synergy through the Internet. The shout box can be installed in just seconds, and it can be used for varying purposes such as leisure and Internet marketing. It also allows a user to customize the size, color, and name of the widget. Chatwing is 100% free for everyone.