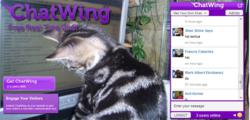 Seattle, WA (PRWEB) November 10, 2012
Chatwing, an online company that creates chat applications, has recently introduced a chat widget capable of empowering global connectivity. This social widget can be installed to any website, creating synergy between the owner and scores of his visitors. Website owners can even modify the widget according to their preferences or the theme of their websites. Chatwing's developers have also offered key tips on how to create an outstanding widget that can entice hundreds of visitors.
Through social media integration, Chatwing's free chat box allows users to log in with their Facebook or Twitter accounts. Facebook group makers can use this option to invite more people, and Twitter users can find trends at a better rate. Visitors who logged in with their social media accounts can send invitations to each other.
The Chatwing shoutbox can be used in three important form factors or styles. The shoutbox form is the most common style—it takes only the sidebar position of a website and displays message information like RSS feeds. The website owner can also see the message history clearly and from there, he can access various options. The pop-up window style takes on very little space: a 'chat now' button will appear visible and it can be clicked by visitors. Upon clicking this button, visitors will be taken to a new window displaying a larger version of the Chatwing chatbox. The newest style is the vanity URL; this allows users to create their unique shortlinks and send them over to their friends and colleagues. The Chatwing team has added this option to emphasize centralized and private chatting.
Chatwing's free chat widget is ready to bring a new professional website chat experience for everyone. With this, global information relay will become easier and websites will gain more traffic in a limited time. The Chatwing team is also ready to add more improvements to the website chat box so that people can use it as efficient as possible.
About Chatwing.com
Chatwing.com specializes in the new field of website chat. Over years, the Chatwing team has introduced live chat widget for hundreds and thousands of blogs. The Chatwing application bridges people from many parts of the world, creating global synergy through the Internet. The shout box can be installed in just seconds, and it can be used for varying purposes such as leisure and Internet marketing. It also allows a user to customize the size, color, and name of the widget. Chatwing is 100% free for everyone.