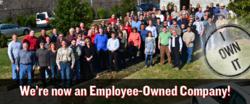 In the end, it's our customers who will greatly benefit with a more dedicated, owner-minded group of people working harder than ever before to exceed their expectations."
Asheville, NC (PRWEB) November 12, 2012
True to form in its roots as an employee-focused organization, Asheville, N.C. based North American Roofing announced it is transitioning to an employee stock ownership plan (ESOP). The move puts the company's 500 employees in a position to control the commercial roofing company's success.
"In keeping true to our roots of being a respected, trusted, family-run company, transitioning the company to an ESOP was the obvious right thing to do for our future," said Brian Verble, who will continue serving as CEO indefinitely and is the majority stakeholder. "We've always been blessed with great, loyal people, and now our employees here in Asheville and across the country have a financial stake in maintaining that loyalty to the company and its mission. In the end, it's our customers who will greatly benefit with a more dedicated, owner-minded group of people working harder than ever before to exceed their expectations."
The North American Roofing ESOP is similar to an accruing savings plan in which employees only have to work to earn, giving only of the hours worked. They become vested based on years of service to the company. Employees will have the opportunity to serve on a leadership committee that will help guide the company.
"The more vested anyone is in anything, the better the outcome for success," said Verble. "Our employees see it as an investment in their future. They care more about the bottom line, they feel more secure, and they treat customers and decisions as if it is their own business."