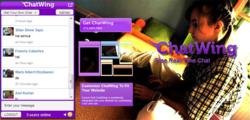 San Francisco, CA (PRWEB) November 11, 2012
Chatwing has introduced its latest chat widget filled with important features that enhance a person's experience of global connectivity. Chatwing's developers have realized the sheer importance of information, allowing them to gather suggestions from thousands of web users. Operating on these suggestions and feedbacks, the Chatwing Team has added customization features, socialization tools, and even admin options. Additionally, chatting through the Chatwing widget has become faster and smoother than before.
In Chatwing's latest chatbox, users can log in with their social media accounts. Hundreds of Facebook users have tried out the Chatwing widget, especially social marketers and gamers. On the other hand, Twitter trend seekers and setters have relied on the Chatwing app to gather information. Chatwing's developers have also enhanced the application's customization options. Now, borders can be modified, along with sizes and other individual options. Advanced users can also try CSS modification.
Chatwing's free chat widget has also been installed in forums and financial websites. This is due to the connectivity that was offered by the Chatwing chatroom. The developers have also introduced the application as a 'visibility tool.' According to some website owners, the Chatwing chatroom has generated online visibility as high as 55%. Chatwing's developers, on the other hand, have emphasized that many factors can affect a website's visibility. Nevertheless, communication is still one of the contributing factors of the Chatwing app.
The Chatwing Team has announced that more developments will come in the following months. These developments will ensure that the Chatwing chat box will run smoother than ever, and more admin options can be featured. Updates will be posted in Chatwing's official Facebook page and blog series.
About Chatwing.com
Chatwing.com specializes in the new field of website chat. Over years, the Chatwing team has introduced live chat widget for hundreds and thousands of blogs. The Chatwing application bridges people from many parts of the world, creating global synergy through the Internet. The shout box can be installed in just seconds, and it can be used for varying purposes such as leisure and Internet marketing. It also allows a user to customize the size, color, and name of the widget. Chatwing is 100% free for everyone.