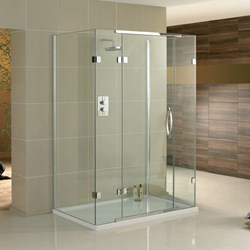 The online company have also increased their range of electrical showers
(PRWEB UK) 12 November 2012
Selecting the appropriate shower cubicle can be a difficult task amongst all of the current products available in the market today. Bella Bathrooms understand this difficulty and have now stocked a new range of bathroom cubicles capable of providing home owners with the latest design and style to compliment any bathroom suite. The online company have also increased their range of electrical showers providing an extremely special showering experience.
The new electrical showers available are amazing at providing an amazing design and style yet feature a brilliant usage for showering. Electrical showers are the most popular type of shower installed within the UK as the easy installation makes the whole process easy and effortless. Being able to place an electrical shower almost anywhere within connection of a mains water supply makes it a perfect choice for home owners that want a brilliant function with easy access. Electrical showers have also developed in appearance since first release and luxury designs can be found on Bella Bathrooms to help add an extra touch of class to any suite. The company sell products from the most popular manufacturers in the UK including the highly prestigious Mira Sport from Mira Showers.
Shower Cubicles are an alternative for consumers that want to purchase a classic style enclosure whilst maintaining style and quality. Since first established on the bathroom market, shower cubicles have greatly improved in quality and technological benefits. The online store is useful for home owners that don't want to replace their existing shower tray as the option to buy with our without is provided. The new items sold by Bella Bathrooms feature a wide range of door types suitable for any bathroom suite.
For those who want to add extra additions to a shower or shower cubicle, the company also sell special accessories to help add the finishing touch to any suite. This includes shower racks to help store any items conveniently as well as shower curtains to increase the quality of visual presentation. Everything you can imagine is supplied by the leading bathroom store and their easy to use website makes browsing for specific items easy and convenient.
All of the showering products from Bella Bathrooms feature a lengthy guarantee, mainly lifetime. This gives consumers a peace of mind as the products can be used to the full potential. This however should not be required as all items are manufactured from the finest companies in the UK, all established for their high quality.
About Bella Bathrooms:
Bella Bathrooms is one of the finest UK online bathroom retailers based in the North-East of England and offer continuous great deals of bathroom refurbishments, shower, towel rail and radiator updates, stylish bathroom furniture and various other key elements at prices that are guaranteed to be unsurpassable. The latest updates continuously made have further improved the overall quality and they have set a high standard for things to come in the future. The company also own a number of other e-commerce sites with their latest addition being ibathroomsuites offering most bathroom suites with a next day delivery service.
Bella Bathrooms
Tel: 0844 8117 017
Available to contact from 9am – 5pm