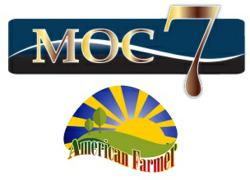 Fort Madison, IA (PRWEB) November 10, 2012
American Farmer announced today that they will be featuring Ag Odor Control in an upcoming episode of American Farmer on RFD TV. Ag Odor Control, located in the southeastern tip of Lee County, Iowa, has developed a new treatment for hog confinements that not only helps improve the environment, but also improves fertilizer value of the manure. Another benefit noted by users of the treatment in many cases is the reduction of manure pit foam.
Ag Odor Control's MOC-7 treatment mitigates dangerous gases and odors from hog waste, which results in an improved environment that is more comfortable for the animals as well as the workers. MOC-7 breaks down solids in the pit and reduces crusts. This results in fertilizer that is better utilized by plants. In field tests using MOC-7 treated manure as fertilizer, substantial increases in nitrogen have been measured with significant improvement in yield. The suppression of ammonia production locks this valuable compound in the manure for slow release into the soil.
Additionally, professional air quality testing of the MOC-7 treatment by Inquest Environmental, Inc. has shown a significant reduction in ambient air concentration of ammonia and hydrogen sulfide in a working swine production barn. The MOC-7 has an immediate reduction in odor, and creates calmer, quieter pigs. This easy-to-use treatment is changing the way farmers manage their hog confinements and has even proven to reduce death loss and the use of medication on farms.
This particular episode of American Farmer will showcase Ag Odor Control, and their MOC-7 treatment, which is revolutionizing the industry. Viewers will learn how MOC-7 is allowing farmers to reap the full potential of their livestock and their crops.
"This new product is really exciting," said Charlie Cowan, producer for American Farmer. "I'm proud to be able to introduce our audience to Ag Odor Control and to showcase their new product, MOC-7, which is bringing great changes to the world of farming."
Ag Odor Control has found its product MOC-7 to be effective on most animal manures. It has been extensively tested and used in hog confinement facilities and to a lesser degree in manure lagoons from hog and dairy production.
"I'm delighted that my company has been chosen by American Farmer for an opportunity to share his exciting research and development in this environmentally and economically beneficial product," said Bob Watson, President and founder of Ag Odor Control.
About Ag Odor Control:
Ag Odor Control was formed about 3 years ago with Bob Watson at its head. Watson has spent much of his life making useful products from waste and spent years managing community landfills. While dealing with the difficulties of cerebral palsy from birth, Watson has become an expert in composting and other useful recycling procedures. In experimenting with methods of controlling landfill odors, he developed MOC-7. The product is effective in the treatment of animal manure and suppressing the formation of gases, which not only curbs odors but significantly improves the nitrogen content, and therefore the fertilization quality, of manure. This has resulted in multiple environmental benefits.
For more information, visit: http://www.agodorcontrol.com or call 1-855-372-2453.
About American Farmer:
American Farmer is a breakthrough program on a mission to showcase the latest advancements in agriculture and farming. From seed to harvest, livestock and more, our producers have traveled the country covering the people, places and issues impacting all areas of farm country.
For more information visit: http://www.dmgproductions.org or call (866) 496-4065.
Media Contact:
Charlie Cowan, Producer
(866) 496-4065 x 875