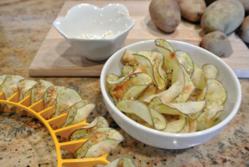 Austin, TX (PRWEB) November 14, 2012
In a nod to potato chip lovers everywhere, CD3 Holdings, Inc., a leading consumer products innovator is about to introduce the Ronco Chip-Tastic, a new product that lets consumers make potato chips in the microwave with no mess and no grease.
"Potato chips are the #1 snack food in America," said Eydie Webster, VP of Sales & Marketing at Ronco. "We eat 1.2 billion pounds of potatoes a year.ChipTastic will change the way people think about potato chips - it's the perfect way to satisfy potato chip cravings without the guilt."
ChipTastic, creates delicious potato or sweet potato chips the healthy way with a third less calories and without all of the preservatives and additives found in store bought potato chips. Chiptastic allows for control over the ingredients, allowing as much or as little salt and seasoning as desired, creating perfect, nutritious custom chips.
Potato chip lovers everywhere won't have to limit themselves to only potato and sweet potatoes either. Chip-Tastic also works with apples, pears, and mangos making delicious fruit crisps every time. Both Chip-Tastic and the included potato slicer dishwasher safe. Online ordering is available on November 26th 2012, so bookmark http://www.buychiptastic.com and get yours for just $19.99