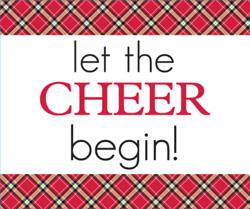 (PRWEB) November 09, 2012
The Bon-Ton Stores, Inc. Announces Midnight Opening on Black Friday and Holiday Campaign ~ Let The Cheer Begin ~
Milwaukee, WI - November 9, 2012 – The Bon-Ton Stores, Inc. (NASDAQ: BONT), which includes Bon-Ton, Bergner's, Boston Store, Carson's, Elder-Beerman, Herberger's, Parisian and Younkers stores, announced its Holiday campaign "Let the Cheer Begin". The campaign kicks off online on Thanksgiving Day starting at 6:00 a.m. with online door busters and special web-only deals that can only be found at bonton.com. All Bon-Ton Stores will open at 12 a.m. on November 23 (midnight on Thanksgiving night) for the Biggest After-Thanksgiving Sale with over 500 door busters, special offers and discounts for its customers.
"On Black Friday we will offer the very best deals to start the holiday shopping season," commented Brendan Hoffman, President and CEO of The Bon-Ton Stores, Inc. "We will be in full stock with a huge selection of merchandise and unique gifts for the entire family. Customers can enjoy the convenience of shopping the way they choose – in our stores or online at bonton.com."
The Bon-Ton Stores Holiday Campaign will have a strong promotional cadence that will be advertised through in-store marketing, broadcast, social and digital media, mobile, email and direct mail.

Holiday Campaign: "Let the Cheer Begin" is a customer-centric campaign focusing on the spirit of the season and a cheerful shopping experience for our customers.
In-Store Gift Presentations: Holiday gift presentations will enable shoppers to find the right gift for anyone on their list, with themes such as Holiday Food - "Frost Bites and Hot Toddies," Tech Gear – "Let's Tech the Halls," Toys – "Let the Fun Begin," Celebrity Fragrances – "Who Are You Wearing," Fragrance Coffrets – "Little Cheers starting at $30," Holiday Entertaining – "Let's Mingle and Jingle," Holiday Baking – "Yule Sizzle and Serve" and Girlfriend Gifts – "It's a Girls World."
Extended Shopping Hours: During the holiday season, starting with After-Thanksgiving through December 24, stores will be open earlier and close later to make shopping more convenient. We know our customers appreciate the extra time as they shop for that extra special gift.
Bon-Ton Connect Mobile Application: Starting November 22, visit the iTunes app store (http://itunes.com/apps/connectbonton) or search "Bon Ton Connect" to get the app. This app will provide customers with instant access to Bon-Ton's best coupon offers while they are shopping during the holiday season.
Biggest After-Thanksgiving Sales Event: All Bon-Ton Stores will be open from 12:00 a.m. to 10:00 p.m. on Friday, November 23. Furniture Galleries in select markets will be open from 7:00a.m. to 9:00 p.m. on November 23.
Over 500 After-Thanksgiving Door Busters will be available in-stores from 12:00 a.m. on Friday, November 23 until 1 p.m., or while quantities last. Shop Door Busters online starting at 6:00 a.m. on Thanksgiving Day.
Spread a Bit of Goodwill: For the first time, Bon-Ton Stores will hold a Goodwill® Sale in early December. For every gently used toy or apparel item donated, customers will receive a 25% off coupon. Since our partnership began in 1994 we've collected over 86 million items for Goodwill®. Eighty-three percent of its revenues support employment programs and supportive services for people who are having a hard time finding a job. Starting November 27 you can visit http://www.millionactsofgoodwill.com for event details and also be entered to win instant prizes and a chance to have your Bon-Ton Stores credit card paid off in December.
A Gift that Gives Back: A Bon-Ton Stores Tradition - Two cute and cuddly holiday plush bears can be purchased for $6 in stores and online – proceeds benefit the local Boys & Girls Clubs in our communities.
Bonton.com Exclusive Weekly Deals: Every Tuesday in November and December, we will offer weekly Deals of the Day with extraordinary gift deals you can only get online.
Bonton.com Gift Guide: A "Holiday Gift Guide" will provide customers with great gift ideas for her, him, teens, kids and even pets. Plus, a special selection of gift ideas all under $25. http://www.bonton.com
Bonton.com 12 Days of Cheer: Starting December 1, and every day for 12 days, a featured gift category will provide a coupon offer with free shipping on that category. Customers will be notified by email to find out what the gift category offer is for the day.
Social Media: Like us on Facebook, http://www.facebook.com/Bonton, or follow us on Twitter, http://twitter.com/thebonton, to stay in the loop on new gift ideas, holiday fashion trends, and insider news. Weekly Cheer on Facebook: Starting November 5-November 26, we are giving away weekly $50 gift cards on Facebook.
Get in to the holiday spirit when you stop by our blog or visit us on Pinterest for a little holiday cheer and gift giving ideas. Blog: http://bontonstyleblog.blogspot.com/ Pinterest:http://pinterest.com/bontonstyle/
Holiday Email Alerts: Customers who have opted-in for Bon-Ton emails will receive special holiday savings offers. Anyone can sign up to receive Bon-Ton emails at bonton.com and be the first to know about exclusive offers and special sales throughout the entire holiday season.
Mobile/SMS: Holiday coupon convenience on-the-go: Get our best holiday offers sent directly to your mobile device by texting "OFFERS" to 266866. Customers can show their mobile phone at any register to get their digital savings.
The Bon-Ton Stores, Inc. operates 273 stores, including 11 furniture galleries, in 24 states in the Northeast, Midwest and upper Great Plains under the Bon-Ton, Bergner's, Boston Store, Carson's, Elder-Beerman, Herberger's and Younkers nameplates and, under the Parisian nameplate, stores in the Detroit, Michigan area. The stores offer a broad assortment of brand-name fashion apparel and accessories for women, men and children, as well as cosmetics and home furnishings. The Bon-Ton Stores, Inc. is an active and positive participant in the communities it serves. For further information, please visit the investor relations section of the Company's web site at http://investors.bonton.com. Facebook.com/Bonton, Twitter: @Bonton, website: http://www.bonton.com
###